Kim Kardashian West is being accused of blackface in her new beauty campaign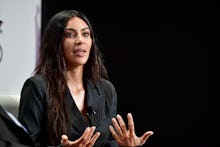 It's almost like the Kardashian-Jenner family is unable to launch a new product without also ushering in a new batch of controversy. When Khloé Kardashian and Kylie Jenner teased new products these past two weeks, they were both separately accused of copying indie designers. And now, after Kim Kardashian West teased her new beauty line this week, she's being accused of blackface.
This all started on Kardashian West's social media on Wednesday, when she tweeted out and Instagrammed a picture teasing her first beauty product from her new line KKW Beauty.
To many, her skin appeared much darker than it is. That point was further supported when KKW Beauty posted this picture to Instagram, which shows Kardashian West with lighter skin.
Because of this difference, many on Twitter are accusing Kardashian West of blackface.
It's particularly strange that darker picture not only exists, but it's being used at the same time as the lighter picture. Kardashian West's Twitter avatar features the lighter picture, for example, and that is also the only one being used on her beauty line's Instagram account. Her personal Instagram, meanwhile, features the darker image.
So that begs the question: Why post the same picture but with different tones, when she probably understands that her skin does indeed look much darker in one? What is she trying to get at?
On one hand, who knows what Kardashian West's own skin looks like under certain lights and with certain tints, and who's to say this was purposeful at all. On the other hand, what really isn't helping Kardashian West's case is her long history of appropriating and mimicking parts of black culture. She's been called out for wearing cornrows multiple times, and for mimicking a black woman on the cover of Paper magazine.
With a history like that, you'd imagine Kardashian West would quickly try to either apologize or remove that image, but she has yet to do either.