4 new Trump-Russia stories to follow: Mike Pence, Jared Kushner, Donald Trump on defense and more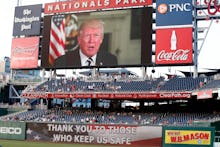 Vice President Mike Pence has hired outside counsel, CNN confirmed, to represent him in the investigation into alleged Trump-Russia ties. The attorney Pence hired is the former attorney general of Virginia. The Washington Post reported the finances and business dealings of Jared Kushner, the president's son-in-law and top adviser, are under investigation as part of the special counsel's Russia probe.
After those stories broke, Deputy Attorney General Rod Rosenstein issued a statement questioning their veracity. "Americans should be skeptical about anonymous allegations," Rosenstein said. "The Department of Justice has a long-established policy to neither confirm nor deny such allegations."
Rosenstein's statement came after the president tweeted Thursday that the Russia investigation is a "WITCH HUNT." Then on Friday morning: "After seven months of investigations & committee hearings about my 'collusion with the Russians,' nobody has been able to show any proof. Sad!"
"Donald Trump received three separate assurances from then-FBI Director James Comey that the president was not personally under investigation — but he may now be under investigation because he couldn't let his obsession go," Politico's Josh Dawsey wrote.
The deluge of Russia headlines has not stopped: On Friday morning, the New York Times reported on a memo saying officials at the White House had been ordered to preserve records from the Trump transition team related to the Russia investigation. The memo suggests Mueller is focusing on several Trump associates outside the government.
This is Mic's daily read on Donald Trump's America. Welcome to the political newsletter that can't keep up with all these Russia stories.
Want to receive this as a daily email in your inbox? Subscribe here.
We're seeking your support to expand our coverage of Donald Trump. As little as a $1 a month will give you access to an exclusive group to interact with Mic journalists and grow our reporting. Learn more here.
What we're watching
Today: Recapping the deluge of new Russia stories.
More: Will Senate Republicans have a health care plan by July?
Even more: Democrats won the congressional baseball game.
Yes, more: Donald Trump is making it more difficult to travel to Cuba, again.
Trump's agenda today: Flying to Miami to sign a new policy about U.S. and Cuba relations.
The closing window on health care
If Senate Republicans are to meet their June 30 deadline on passing health care reform, they have two working weeks left to introduce, score, debate and pass a bill. Multiple Republican senators told Politico Thursday they have yet to see a version of the health care bill. Sen. Shelley Moore Capito (R-W.V.), a key GOP swing vote on health care, said she believed the end of June deadline "was a stretch anyway."
Republicans do not have to pass a health care bill by their self-imposed end of June deadline. But they'd like to at least unveil the legislation before leaving for the recess.
Members of Congress will return for three weeks of work after the holiday. That means the Senate and House have to find consensus on a new health care bill — the upper chamber is not taking up the American Health Care Act — before the August recess. Pushing the debate into this fall means health care would run up against a fight over raising the debt ceiling and preventing a government shutdown.
Democrats win congressional baseball game with bipartisanship on display
A record crowd was on hand to watch Democrats and Republicans face off at Nationals Park in Washington, D.C. for the congressional baseball game. Democrats won 11-2. The game showcased political unity after Rep. Steve Scalise (R-La.) and three others were shot by a gunman Wednesday morning while practicing for the game.
The game, played since 1909, offered a reprieve from partisan political battles. The game raised more than $1 million for charity and set an attendance record with more than 25,000 tickets sold. Scalise remains in critical condition.
Trump and Cuba
The president plans to, once again, restrict travel to Cuba by Americans. While not banning travel, Trump will require Americans to demonstrate interaction with the Cuban people and keep receipts to prove they did not spend money with the Cuban government. Then-President Barack Obama eased travel restrictions to Cuba in 2014 in an attempt to begin normalizing U.S.-Cuba relations.
News and insight you cannot miss:
An estimated 6.4 million young adults would lose health care coverage under the AHCA.
After Scalise's shooting, lawmakers say they want more protection.
The U.S. is deploying 4,000 additional troops to Afghanistan.
The Trump administration has revoked a federal program that gave parents of children who are U.S. citizens or residents a pathway to citizenship.