'Final Fantasy 14: Stormblood': "Best served with cold steel" quest not working? You're not alone.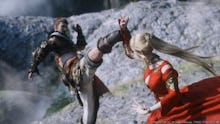 If you called in sick to work today to stay at home and play the Final Fantasy XIV early access, chances are you thought karma had come to bite you in the chocobo-butt. About 20 minutes into playing through the main scenario quest in the Gyr Abania Fringes, the first dungeon of the game, the mission "Best Served With Cold Steel" refused to load, leaving Raubahn and the rest of the Ala Mhigo resistance in the lurch for just a little while longer.
That's likely due to a known bug keeping players out of instances and the Duty Finder on Friday morning, when early access to the Stormblood became available to players who'd been waiting for the better part of a year to continue with the gripping Final Fantasy XIV main story.
According to an announcement on the Mateus server — and possibly many more servers — Square Enix wants players to hold tight while they work out a quick solve for the problem.
"We are currently experiencing downtime with the Duty Finder," the announcement said, "Instances such as job quest battles are currently unavailable. We ask that players refrain from accessing the Duty Finder at this time. Please await a follow-up, as we are currently still investigating the matter."
But just because you can't continue on with the quest or use the Duty Finder to kill your time in Palace of the Dead doesn't mean there isn't plenty else to do. Check out the new FATE leveling system and kill some bad doggos in the Steppes; take a moment and go through your kit, familiarizing yourself with the adjustments to your level 60 job ability rotation; or break out that trusty, rusty Aether Compass and spend your time attuning to currents around Gyr Abania.
If you were curious about whether Samurai or Red Mage, the two new jobs in Final Fantasy XIV Stormblood, were for you, but didn't want trying them out to distract from pursuing the MSQ, there's never been a better time to take that detour.
Mic will update you as more information becomes available on the issues.
More gaming news and updates
Check out the latest from Mic, like this essay about the sinister, subtle evils lurking in rural America that Far Cry 5 shouldn't ignore. Also, be sure to read our review of Tekken 7, an article about D.Va's influence on one Overwatch player's ideas about femininity and an analysis of gaming's racist habit of darkening villains' skin tones.