Celebrity chefs on their favorite Father's Day traditions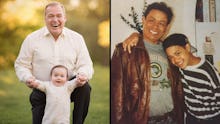 Chefs often work around the clock — the restaurant industry is nothing if not demanding. But for many, making time for family remains an important part of life, especially on Father's Day.
Whether they're fathers themselves or they still cherish memories with their own dads, here's how eight famous chefs have celebrated Father's Day. From cookouts to fishing excursions to lazy days at home, take inspiration from these sweet responses.
Jacques Torres
Claim to fame: Torres is a famous chocolatier and pastry chef, most known for his handmade chocolate treats. He owns Jacques Torres Chocolates. 
The tradition: Obsession with craftsmanship runs in Torres' family. "My father gave me the love for craftsmanship; he was a carpenter. Being with him at work made me fall in love with creating and using my hands," Torres said in an email. 
Torres said he would typically give a "little gift" to his dad in honor of Father's Day. "Usually, I went into the sea and caught him fresh sea urchins"
Torres is a now father himself but his son Pierre — who was born in September 2016 — isn't quite ready to start catching sea urchins.
Dale Talde
Claim to fame: Though his latest venture is the Crown, a rooftop bar at the Hotel 50 Bowery in Chinatown, Chef Talde also runs restaurants in Brooklyn, Jersey City and Miami. Talde was on two seasons of Top Chef.
The tradition: When he was growing up, Father's Day meant food for Talde and his family. "Father's Day was usually a cookout," Talde said in in email. The chef's dad loved to fish and some of Talde's fondest memories are waking up early to fish with his old man. "We would go to a forest preserve and trek to some random stream to a fish and spend the day there," he said.
Thomas Boemer
Claim to fame: Boemer is chef and co-owner of Revival and Corner Table, two restaurants in Minneapolis.
The tradition: For Boemer, Father's Day is an excuse to get back to basics with his family and enjoy one another's company.
"[Our day] is usually simple but that's what makes it so precious," Boemer said in an email. "The restaurants are so crazy and hectic for both my wife and I that quiet days at home are incredible."
On Boemer's agenda for this year: Playing Legos with his five-year-old son, Flynn. "But only after coffee," Boemer said. "We usually finish the day with a pizza delivery."
Tony Gemignani
Claim to fame: Two-time Guinness Book of World Record champion for creating the largest pizza, Gemignani also owns and operates 16 pizzerias across the U.S.
The tradition: Gemignani has always been a family man — he cut his teeth in the pizza industry while working at his brother's pizzeria in Castro Valley, California. But growing up, some of his fondest memories didn't include pizza.
"We went to a lot of A's and Giants games," Gemignani said in an email. "One time my dad caught a foul ball at an A's game and its signed — I still have it.
Gemignani also fondly recalls barbecuing with his dad. "That's something I want to do with my son when he gets older. He's 2 years old now so we don't have any traditions yet but I'm looking forward to making this Father's Day a family day. I'm going to take the day off and just spend it with my family."
Myron Mixon
Claim to fame: This chef is a four-time Barbecue World Champion and has authored the bestselling cookbook, Smokin' with Myron Mixon. He also runs Pitmaster Barbecue, a restaurant in Alexandria, Virginia.
The tradition: Mixon's dad helped instill a love of grilling in his son. "We used to go to a local state park on the lake and grill out for Father's Day, then go down to the shore and hang out with my daddy," Mixon said in an email. "One time, he let me help with grilling. That was awesome."
Now that Mixon has his own children, he sticks with tradition. Father's Day is all about "having all my kids with me on Fathers Day, standing around my grill doing the same thing I was doing with my dad 40-plus years ago," he said. "It makes me proud to be my dad's son and to be a father."
Jeff McInnis
Claim to fame: McInnis appeared on season five of Top Chef and earned three James Beard nominations while working in kitchens in Miami. He's now co-owner of Root & Bone, a restaurant in New York City.
The tradition: While growing up in Florida, McInnis celebrated Father's Day by hunting and fishing with his dad. The chef also has fond memories of enjoying Coors Light with his dad.
Now that McInnis has his own children, Father's Day feels extra special. Last year, his partner flew to Australia to tell her family she was pregnant with a second child, and then McInnis joined her in Florida to tell his side of the family.
"Janine was about five months pregnant and the thought of having another little family member was nothing short of bliss for me. We had also just closed on our first house together which was exciting — almost a landmark for us," McInnis said in an email.
Tom Borgia
Claim to fame: Borgia is the executive chef of State Street Provisions in Boston. Previously, he has worked in kitchens across the U.S. and in Greece, Italy, Spain and France.
The tradition: Borgia recalls sailing with his father growing up. "Especially racing in the Buzzards Bay Regatta," the Massachusetts native said in an email. On Father's Day, his family would usually have a cookout.
These days, the reality of being a chef at a busy restaurant means his family delays their Father's Day celebrations. "Unfortunately, I have worked every single Father's day since my kids have been born," he said. "We still try to celebrate the following Monday."
William Dissen
Claim to fame: Dissen is executive chef and owner of the Marketplace Restaurant in Asheville and the forthcoming Haymaker Restaurant in Charlotte. The Marketplace Restaurant was recently recognized for its commitment to supporting sustainable food systems when it was included on the Good Food 100 Restaurants list.
The tradition: Growing up, Father's Day used to mean a beach trip for Dissen and his family. "[We'd] spend the day on the beach. For dinner we'd grill some fresh fish or Carolina shrimp with summer veggies," he said in an email.
Dissen and his father just went on a Father's Day fishing trip in Montana. "It was one of the most memorable trips to spend time in nature and catch some beautiful rainbow trout."
Now a dad himself, Dissen has a daughter and a son. He's already sharing the great outdoors with them on Father's Day. "Last year we loaded everyone up and went for a hike in the mountains outside of Asheville. We were able to have a picnic on the mountain top as the sun was setting," he said.