Trump to continue DACA, Obama's program for childhood arrivals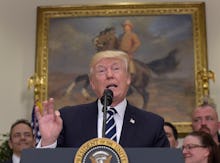 On Thursday night, President Donald Trump's administration decided to continue the Deferred Action for Childhood Arrivals program, the New York Times reported. The program allows undocumented immigrant children who were brought to the United States as minors, widely known as "Dreamers," to stay in the U.S. and obtain working visas.
Trump's decision veers from his strident anti-immigrant campaign rhetoric, which translated into some tough early months for American immigrants during his administration. Trump laid the groundwork to ramp up his deportation force early in his presidency, leading to many immigration raids resulted in large numbers of deportations, many of nonviolent offenders. He also opened the Victims of Immigrant Crime Engagement Office, meant to act as a place for people to report crimes by immigrants.
"This is a big victory for Dreamers amid months of draconian and meanspirited immigration enforcement policy," David Leopolod, an immigration lawyer, told the Times. "The preservation of DACA is a tribute to the strength of the Dreamer movement and an acknowledgment — at least in part — by the Department of Homeland Security that it should not be targeting undocumented immigrants who have strong ties to their communities and have abided by the law."
As the Trump administration decided to continue DACA, it eliminated the Deferred Action for Parents of Americans and Lawful Permanent Residents program. The Trump administration has already detained people who were part of the DACA program. In February, Trump said he would treat Dreamers "with heart." Trump called most DACA recipients "incredible kids," as well.
According to the Times, about 800,000 Dreamers are a part of the DACA program.
The fates of DACA and DAPA have been up in the air for quite some time. During his campaign, Trump promised to "immediately terminate" both of the programs, implemented by former President Barack Obama.