You'll never guess how Taylor Swift appears in Selena Gomez's "Bad Liar" video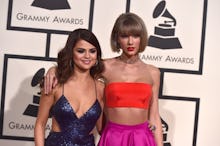 It appears that Easter eggs are not reserved for comic book movies. The music video for Selena Gomez's new single, "Bad Liar," contains a quick appearance from the singer's bestie, Taylor Swift, in a way that would make the perfect tease in a film like Wonder Woman.
Fans who have watched the video multiple times and still cannot spot Swift should not fret. It is tough, after all, to focus on anything besides the numerous characters Gomez appears as in the video (she plays at least four). But Swift does make an appearance, though more subtle than Gomez's appearance in Swift's video for "Bad Blood."
Near the end of the single, viewers who look really close should be able to spot Taylor Swift's face superimposed over an old Charlie's Angels Poster. If that is indeed Swift (and it sure looks like her), she is in the middle of the Angels, where Farrah Fawcett should be. Check out the video below.
In case Swift's appearance is still not apparent, don't worry: Obviously Twitter is all over it.
Mic has ongoing coverage of Taylor Swift. Please follow our main Taylor Swift hub here.