'Shameless' star Emmy Rossum shares powerful story about sexism in Hollywood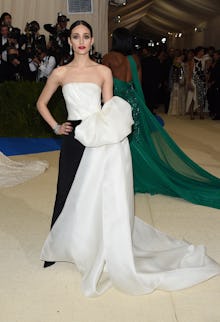 When six of the finest comedy actresses get into a room together, don't be so sure that the discussion will be a barrel of laughs.
During the Hollywood Reporter's annual Comedy Actress Roundtable, the subjects ranged from embarrassing moments to pay disparity to the ever-rampant sexism that sadly, even in 2017, remains an industry mainstay.
Shameless star Emmy Rossum, who joined America Ferrera, Pamela Adlon, Minnie Driver, Issa Rae and Kathryn Hahn for the roundtable, shared a poignant story with her colleagues about how despite her success, she's still being judged for parts on the basis of her body.
As Rossum told it, a plum role was about to be placed into her hands — no audition necessary — except there was one demeaning catch:
My agent called me and was like, "I'm so embarrassed to make this call, but there's a big movie and they're going to offer it to you. They really love your work on ['Shameless']. But the director wants you to come into his office in a bikini. There's no audition. That's all you have to do."
Rossum, a Golden Globe nominee for her performance as Christine Daaé in the 2004 movie Phantom of the Opera, asked to see a copy of the script to find out if there was any validity to the director's request, i.e. the character wears a bikini in the actual film. When she learned that there were no swimsuit or nudity scenes of any sort, it was then she realized the director just "wanted to know if I was fat now."
For someone like Rossum, who has achieved a level of fame most actors can only dream about, anger and frustration are a given: "Are you f—ing kidding me?" she vented to her fellow comedy actresses, according to the Hollywood Reporter. "Last time I checked, I'm not a f—ing model."
But the incident also gave Rossum pause, because while she has the luxury of getting mad and telling this kind of story to the Hollywood Reporter, she also bemoans the fact that countless struggling actresses would've done the deed, no questions asked:
If somebody with my years in the business would think, "Well, I wonder if it's worth it," then what would a girl who doesn't have my success do? She would do it.
This isn't the first time Rossum has taken a stand against gender inequality: In April, she worked with David Schwimmer on a video series about sexual harassment. And back in December 2016, she campaigned for a salary raise on Shameless, which placed her on equal footing with her costar William H. Macy.
Mic has ongoing arts coverage. Please follow our main arts hub here.