New Jersey high school to reissue yearbooks in light of Trump apparel censorship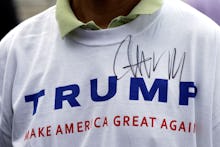 The New Jersey high school that received criticism for erasing President Donald Trump's name from two students' yearbook pictures will reissue the books with the original photos in tact, the district's superintendent said.
Wall Township Public Schools Superintendent Cheryl Dyer issued a letter to parents and students Thursday evening apologizing for the photos that were edited and announcing a free redistribution.
In the letter, Dyer said she can confirm Grant Berardo's T-shirt was intentionally censored to remove Trump's "Make America Great Again" logo from the photo. On the other hand, she said Wyatt Dobrovich-Fago's photo does not appear to be deliberately edited. Rather, the Trump logo on the junior's vest was trimmed out of the shot due to a standard crop of the photo to fit the yearbook's dimensions.
Additionally, Dyer said it's unclear whether or not a Trump quote was intentionally left out of Dobrovich-Fago's sister's freshman class president photo caption.
Dyer also listed a series of other errors in the yearbook not involving Trump, including several missing photos. She said she's unsure whether or not these mistakes were deliberate.
Dyer stated in the letter that while she largely understands how the photos regarding Trump were edited, she does not know why the incident occurred.
"I think the issue is really about why it happened," she said.
Near the end of the memo, Dyer said new yearbooks including unedited versions of the photos, as well as the missing quote, will be reissued to all students and parents who originally purchased the books, free of charge.
The redistribution fulfills requests from both students' families, who publicly urged the school to redistribute the books to all students with the logos and quotes included earlier this week.
"I want a letter from the administration explaining why the yearbooks are being reissued, and it should be used as a teaching moment related to the First Amendment in civil discourse," Berardo's father, Joseph Berardo, told the New York Post.
The district suspended Wall High School's yearbook adviser Monday in connection to the incident, though it is unclear whether or not the teacher had a direct role in editing the photos.