'Game of Thrones' avoiding leaks by not giving season 7 episodes to the press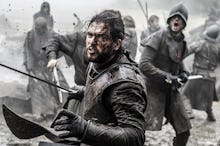 Game of Thrones returns for its highly anticipated seventh season on July 16, and it now seems that critics hoping to watch the premiere will have to wait for that date like everyone else. While members of the press are often given several episodes of new and returning shows in advance of their premiere, Entertainment Weekly is reporting that for the second year in a row, HBO will not provide Game of Thrones screeners.
In 2015, the first four episodes from Game of Thrones' fifth season were leaked onto the internet via press DVDs, prompting HBO to forgo handing out screeners for season six. The move seemed to work out for the network, as Game of Thrones' viewership went up 15% from the previous year.
Assuming select critics will be invited to Game of Thrones' live premiere, an event HBO normally holds in a major city, fans should be able to read at least a few reviews before the new season officially debuts. Of course, as one of the most celebrated series of the last decade, most viewers probably do not need much of a push to tune in to any of the episodes from season seven.
What HBO's decision really means is that plot details from the new season will mostly remain under wraps until the series returns in July. But fan theories have become so spot-on recently that those in the mood for some spoilers can easily check out the latest predictions for possible storylines.
Game of Thrones will return to HBO on July 16 at 9 p.m. Eastern.
Mic has ongoing coverage of Game of Thrones. Please follow our main Game of Thrones hub here.