Michelle Carter guilty in texting suicide death of boyfriend Conrad Roy III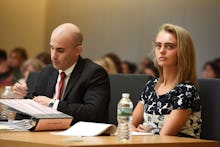 Massachusetts Juvenile Court Judge Lawrence Moniz has found Michelle Carter guilty of involuntary manslaughter in the 2014 suicide death of her boyfriend, 18-year-old Conrad Roy III.
Carter, now 20, was charged with involuntary manslaughter in Roy's death. Prosecutors argued that messages and Snapchats that Carter sent to Roy caused his death by suicide, the Boston Globe reported.
In the weeks before Roy's death, Carter sent him messages that the prosecutors say led to his death. In one such message she wrote to him she said, "You're finally going to be happy in heaven. No more pain. It's okay to be scared and it's normal. I mean, you're about to die,' the Washington Post reported.
In another, sent the day before his death, she wrote "If u don't do it now you're never gonna do it."
Roy died of carbon monoxide poisoning on July 12, 2014. His body was found in a parked pickup truck in a Kmart parking lot. On the day of his death, Roy had gotten out of the vehicle, and texted Carter that he was afraid — to which she responded "Get back in," the Washington Post reported, citing court documents.
Carter's defense team argued that Roy, who had a history of depression and had previously attempted suicide, would have died regardless of Carter's messages. The case raised questions about the role one person can play in another's death, even if they were not physically present at the time.
Carter's defense team chose to waive a jury trial, choosing instead to have Moniz rule from the bench.
June 16, 2017, 11:32 a.m.: This story has been updated.
Corrections: Aug. 3, 2017