Chicago Cubs draft Chris Singleton, whose mother was murdered in 2015 Charleston church shooting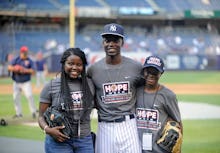 Chris Singleton — whose mother, Sharonda Coleman-Singleton, was killed in the racist 2015 Charleston church massacre — was drafted by the Chicago Cubs on Wednesday.
Singleton, an outfielder currently attending Charleston Southern University, was selected in the 19th round of the MLB amateur draft.
His mother was one of nine people murdered by Dylann Roof at the Emanuel A.M.E. Church in Charleston, South Carolina, in an attempt by Roof to start a "race war." Roof was found guilty on all 33 federal charges brought against him and sentenced to death.
Coleman-Singleton, a 45-year-old mother of three, was a reverend at the black church and a high school track coach.
Singleton tweeted asking for prayers for his mother on the night of the murder, and the next day spoke to a crowd at his home baseball field, Collins Park, about the power of love.
"I just say, love is always stronger than hate," Singleton said. "If we just love the way my mom would, then the hate won't be nearly as strong as the love is."
Singleton received support from then-President Barack Obama and first lady Michelle Obama, then-Vice President Joe Biden and prominent athletes — including Pittsburgh Pirates star Andrew McCutchen, his favorite player, according to a Sports Illustrated profile.
According to Stuart Lake, Singleton's coach at Charleston Southern University, Singleton seemed to use baseball to cope with the tragedy.
"Baseball was a big deal for him," Lake told MLB.com. "There's no doubt that the batting cage and the baseball field became his area to get away."
Jason McLeod, the Cubs' senior vice president of scouting and player development, told the Chicago Tribune that the defending World Series champions took Singleton because they consider him a potential "top-10 caliber talent."
"We certainly understand the back story there, but I want to make sure what doesn't get lost is he's really a good baseball player," McLeod said. "He's talented and athletic and there's upside."
After he was drafted, Singleton called Lake to thank him.
"I thanked him more," Lake told MLB.com. "He's been an influence on my son and me and my wife ... way more than I ever gave him."