Steve Harvey to Flint resident: "Enjoy your nice brown glass of water"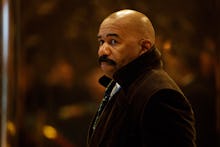 Steve Harvey's recent jokes about the tap water in Flint, Michigan, have landed him in hot water with city activists.
Melissa Mays — an organizer with the grassroots coalition Flint Rising — said that Harvey's Wednesday comments making light of Flint's "brown water" are nothing short of "heartbreaking."
"We already feel that the world's forgotten about us and our lives don't matter," she said in a phone interview. "When we see people making jokes, it just... It really does hit the morale hard here."
During a radio interview on The Steve Harvey Morning Show Wednesday morning, the comedian and Family Feud host used Flint's ongoing water crisis in a retort against a caller who said the Cleveland Cavaliers didn't "deserve jack" following the team's loss to the Golden State Warriors during the NBA finals.
"You from Flint?" Harvey — an Ohio native — asked, according to listener accounts of the exchange. "That's why y'all ain't even got clean water. When was the last time you touched water and it didn't have lead in it?"
In a recording of part of the conversation, Harvey's co-hosts can be heard trying to steer Harvey away from the subject, but the comedian persists.
"I wasn't talking about the city of Flint, I was talking about him," Harvey says. "He going to call in, say Cleveland don't deserve jack, and he over there bathing in all that silver water."
"One more thing — enjoy your nice brown glass of water," he adds.
The comments immediately provoked an outraged response from city leaders and residents in Flint, a city still struggling in the aftermath of a lead-contaminated water crisis that has impacted an estimated 99,000 residents since it began in 2014.
Flint's mayor, Karen Weaver, requested a public apology in an open letter to Harvey.
"I would love to sit and discuss with you the status of where we are today," she wrote.
Another prominent Flint resident — 9-year-old Amariyanna Copeny, aka "Little Miss Flint" — also publicly called on Harvey to apologize.
Harvey later doubled down on the comments in a statement, NBC reported, claiming that the caller took the joke "in the context it was offered." 
"The caller and I were talking trash about our teams and cities. 'SIMPLY TRASH TALKING ABOUT SPORTS,'" he wrote. "I made a joke directed at him, as he is from Flint, a city for which I have great affection and respect."
But Mays — who works with Flint Rising to ensure that residents' voices are represented and supported during the ongoing water crisis — said that Flint's nightmare shouldn't be fodder for sports trash talk.
"I don't understand how it can be a joke… People have died, people are still really sick," she said. "We are still in the middle of a disaster and he threw it in like a little flippant joke like it's no big deal, and it really is."
Mays said that Harvey's comments are made worse by the fact that he dedicated a 2016 episode of his daytime talk show to bringing awareness to the plight of Flint, even bussing city residents in to his Chicago studio to make up the audience.
"He looked really upset and he had to stop during the recording [of that episode]... he spoke to us all from his heart," she said. "It seemed like he really did care so that hit us all harder, because we were like wait a second… you did this show on us, and you seemed really concerned."
Despite the fact that the U.S. Environmental Protection Agency deemed Flint's water safe to drink when properly filtered in 2016, the city isn't out of the woods yet. An estimated 20,000 lead-tainted pipes still need to be replaced, Weaver said in a statement in March, and not all homes are equipped to be fitted with the filters needed to make the water safe for consumption.
Activists also face what they refer to as "Flint fatigue," Mays said — meaning the nation is so inundated with references to Flint's crisis that it has become desensitized to the severity of the situation.
"People think that we're better, but for him to make a joke about it, it solidifies that, 'Oh, if we can laugh about it, it must be in the past tense,' when it very much is in the present," she said.