Young brewers and baristas are living the dream in a quiet Canadian village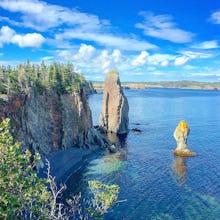 "Oh, my God, I'm Lorelai frickin' Gilmore." Marieke Gow laughs — she's heading to the annual town auction, where she's readied her savings to bid on a year's supply of freshly roasted coffee.
The comparison is apt: Gow, in her early 30s, runs the Artisan Inn, an adorable stay in the village of Trinity, in Canada's easterly province of Newfoundland. (She does not have a "will-they, won't-they" flirtation with the coffee shop owner, though.) Gow regularly finds herself participating in quirky festivals; there's even a local theater that demands much of her attention.
Seven years ago Gow made the decision to move to Trinity, a small so-called "outport" town on Newfoundland's Bonavista Peninsula, and take over the inn from her mother. "I was like, well, it's gonna be me and bunch of 70-year-old grannies for the rest of my life," she said in an interview.
And for the first few years she was right, but lately millennials have begun to flood these lonely outport towns, offering a revitalizing injection of young entrepreneurial spirit.
The outport towns of Canada's Newfoundland came into being in the beginning of the 16th century, when an incredible surplus of cod was found along the Grand Banks, just off the island's coast. Legions of British, Spanish, French and Portuguese fishermen and their families built small villages along deep coastal fjords and peninsular tips, suffering the harsh weather to earn a meager fishing fortune.
As the centuries went on the cod population began to wane, and during the summer of 1992, under the threat of severe overfishing, the Canadian government posted a strict moratorium on the waters off the Newfoundland coast. Tens of thousands of mariners were jobless overnight, their fishing villages obsolete.
A catastrophic brain drain occurred almost immediately, as the working generation was forced to pack up and search for new careers. "You just left after high school — that's what you did," Sonja Mills, a 30-something who grew up in the service town of Clarenville, about an hour away from Trinity, said in an interview. "You went to St. John's [Newfoundland's capital city] or left the province altogether."
Things, however, are changing as legions of young Newfoundlanders like Mills are returning home. Mills — with her wife, Alicia — recently opened a brewery and tap room not too far from Gow's inn. "I would come to [the Bonavista Peninsula] as a kid and we would go hiking," Mills said. "You never appreciate it when you're a kid in high school, you know? But you hold the memories tight and reflect on them later. We knew we wanted to start a brewery and it just made complete sense to open it here in this beautiful setting."
Newfoundland's legendary beauty has long been spread by word of mouth, and the advent of social media has been its megaphone.
"These days, for better or for worse, people want that unique experience to post on their Instagram accounts," Gow stated. "Everyone acts like millennials want Starbucks and selfies, but it's so the opposite — we want to work hard then go to a place where we can relax. We want an experience we can own — something that feels a little off the beaten path."
Of course, it doesn't hurt that the Newfoundland coast is also painfully stunning. "Everyone that visits says it's a gem of a place," Mills added. "It's the perfect spot for something that feels more adventurous than usual. We're a little rugged."
In the last few years, visits to the area have really started to surge, thanks to a new generation of travelers and their addiction to taking pretty photos on their smartphones. And with a bit of serendipity, Newfoundland has also burrowed its way into the greater zeitgeist — Come From Away, the Tony award-winning Broadway hit, showcases the province's small-town hospitality when thousands of air passengers are stranded during the attacks of 9/11.
According to Gow, the recent upswing in travelers has increased Newfoundland's tourism season from two to six months, and encouraged the formation of a new community of hicksters (hipsters and hicks) from all over the country who are turning their backs on the big city to find a different quality of life.
"It's the kind of place where you see your friend's light on and you can go over and hang out." — Marieke Gow
Sarah and Adam Rochacewich, Torontonians in their mid-30s, recently purchased a fixer-upper near Mills' brewery. Several years ago they started a small collection of seasonal confections and decided that this year they would stay through the winter. "We first started coming on holiday," Sarah Rochacewich said over the phone. "And then you start coming back again and again, then you imagine making a go of it, wondering, 'How do you support yourself in another part of the country's small town?' And that's when we opened our first shop."
"And it's really people who have come from away; they realize the beauty and stay to start a business," Gow said. "It's the kind of place where you see your friend's light on and you can go over and hang out. Ten years ago you could buy a house in Trinity on a credit card, and even today a three-bedroom home with a great view is $350,000 [Canadian dollars]. I think a lot of young professionals are seeing the value in not being stretched so thin."
Katie and Shane Hayes, 32 and 36 respectively, have gone as far as creating a destination dining experience on a lonelier part of the peninsula. The Hayeses founded the Bonavista Social Club, a co-op-going Brooklynite's dream known for farm-fresh harvests grown on site, floppy fish caught out front and organic game trapped out back. Daily mains are served alfresco on hand-carved wooden dishware (made by Katie's father), as scores of humpbacks puff plumes of mist in the fjord waters down below.
"We get calls all the time," Katie Hayes said of prospective entrepreneurs asking the couple for pointers before opening their own establishments in nearby outport burgs.
"Tourism is definitely the future of the area," she continued. "We think raising our own food and animals is really important for the next generation, and hopefully our children will want to stick around, seeing that it's now definitely doable to sustain a lifestyle here." And with each passing season the number of businesses continues to grow.
"Even though [I feel like] I live in the smallest town ever, it's not a small-town life," Gow stated, having witnessed the once-flatlined economy of the Bonavista Peninsula become buoyant once more. "The whole world is now coming to visit the area and sharing their global views." The nascent hickster culture also has brought the modern comforts we all crave to small-town living: superlative farm-to-table fare, a thriving social scene, a neighborhood bar, artisanal desserts and — of course — a cozy cafe with designer lattes.
And in case you were wondering, Gow did indeed score the year's supply of fresh roasted beans at the town auction. Guests of her inn will be some of the best-caffeinated in town — Lorelei would be proud.