CAIR sues FBI, TSA for placing Utah imam on no-fly list before he returned to the US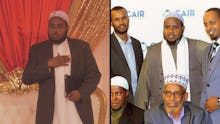 The Council of American Islamic Relations, the largest Muslim civil rights organization in the United States, filed an emergency lawsuit on Friday on behalf of an Utah imam who was prohibited from boarding his flight back home from Kenya. The lawsuit is filed against the FBI, the Terrorism Screening Center and the Transportation Security Administration.
Yussuf Abdi, an imam in Salt Lake City, Utah, was placed on the no-fly list after he left the country to pick up his wife and five children from Kenya. His wife and children were all granted U.S. visas and passports. On Wednesday, Abdi was told by Qatar Airways employees at Jomo Kenyatta International Airport that the U.S. would not allow him to enter the country. His wife and children were allowed boarding.
"[Qatar Airways] told him he couldn't board because the U.S. wouldn't accept him," Jim McConkie, an attorney who co-founded the Refugee Justice League of Utah, told the Salt Lake City Tribune. McConckie and his co-counsel are also on the lawsuit representing Abdi.
Abdi has been a U.S. citizen since 2010 and has lived in Utah for six years.
"He wanted to go over there to get his family and bring them back to the United States," McConkie added. "He actually was afraid to go. They're all super nervous."
CAIR argue that Abdi was wrongfully put on the no-fly list without due process .
"The federal government has used the no-fly list as a tool to attack the constitutional rights and liberties of innocent American Muslims around the country," CAIR National Litigation Director Lena F. Masri, Esq. said in an email. "In the case of Imam Abdi, the federal government wrongfully placed him on the list without notice or due process after he left the country, which effectively exiled him by preventing him from returning to his home in Utah."
Since he is placed on the no-fly list, Abdi will not be able to make it back home in time for the last ten days of Ramadan. The last ten days of Ramadan, or Laylat al-Qadr, are among the most holiest nights for Muslims observing the month-long fast. As the imam of the Madina Masjid, Abdi will not be able to lead the prayers at the mosque. The last ten days began on June 15.
Abdi, however, will attempt to board a flight back to the U.S. tonight.
Noor Ul-Hasan, a Muslim activist in Utah, thinks Abdi was prevented from returning the U.S. because he is a religious leader. Ul-Hasan told the Salt Lake City Tribune that she warned Abdi that he might not be able to return due to religious and racial prejudice.
"This is what I was afraid of," she said. "There's absolutely no reason why he shouldn't be allowed to re-enter."
McConkie, the leader of a coalition of lawyers in Utah who represent refugees and immigrants on discrimination cases, said he received a "panicked call" from Abdi on Wednesday evening. McConkie is planning to talk to U.S. senators, the local embassy and the Department of Homeland Security to help Abdi return to the country. Abdi's temporary visa for his Kenya trip will expire soon.
"We're going to start pushing all of the buttons that we can to get him out of that country," McConkie said.
Abdi fled from a Kenyan refugee camp in 2005 with his grandmother, sister and brother. His mother was left behind in Kenya and Abdi has been working ever since to bring her to the U.S. Abdi's father was killed in a civil war.
Qatar Airways did not respond to Mic's request for comment.