Trump announces sweeping changes to U.S.-Cuba policy in speech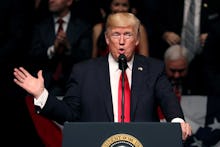 On Friday, President Donald Trump announced he will be making broad changes to the U.S.'s newly relaxed policies toward travel and economic relations in Cuba, changing course on many of the policies implemented by former president Barack Obama.
Speaking from the Manuel Artime Theater in Miami's Little Havana, Trump declared he was "cancelling the former administration's completely one-sided deal with Cuba," fulfilling a campaign promise to the Floridian Cuban-Americans who supported him in the 2016 election.
"It's hard to think of a policy that makes less sense than the prior administration's terrible and misguided deal with the Castro regime," Trump said during the speech, adding, "[Now] that I am your president, America will expose the crimes of the Castro regime and stand with the Cuban people in their struggle for freedom."
In December 2014, President Obama made strides in the long-strained relationship between the U.S. and Cuba, passing a deal that re-established the two countries' diplomatic ties.
The deal included the establishment of a U.S. embassy in Havana and eased many of the restrictions on travel to Cuba, still prohibiting unchecked tourism but allowing "people-to-people" itineraries, along with commercial U.S. flights.
Trump's new changes will now restrict Cuban travel again, imposing harsher enforcement of the current travel requirements and restricting "people-to-people" itineraries to group travel, rather than allowing individuals to travel on their own.
The revised policies will also prohibit financial transactions with the Grupo de Administracion Empresarial S.A., the Cuban military's business division that controls much of the country's economy. This restriction will sharply limit many of the purchases and travel decisions Americans in Cuba can make, as the GAESCA's wide-reaching holdings include all of the state hotels, stores and eateries in colonial Old Havana, along with all Cuban stores and supermarkets selling imported goods, Reuters explained.
"My action today bypasses the military and the government to help the Cuban people themselves form businesses and pursue much better lives," Trump said about the financial restriction during the speech.
The prohibition will exclude air and sea travel, however, which will leave current U.S. airlines and cruise companies doing business in Cuba unaffected, Reuters noted. Trump's deal will also leave the Havana embassy and current diplomatic relations intact, as well as continue to lift the former limits on purchases of Cuban rum and cigars.
Trump pointed to Cuba's human rights violations to justify the reimposed restrictions, pressuring the Cuban government to undergo reform and promising "a free Cuba is what we will soon achieve."
"When Cuba is ready to take concrete steps ... we will be ready, willing and able to come to the table to negotiate [a] much better deal for Cubans, for Americans," Trump said.
International human rights organizations say it remains to be seen whether or not these tactics will be successful in inspiring reform in Cuba, with some arguing that it may further empower Cuban hard-liners, according to Reuters.
"No matter what President Trump may decide, the net impact on Cuba's decision-making on human rights issues will probably be nil," former Canadian ambassador to Cuba Mark Entwistle told Politico.