How to buy ether: A guide to opening an Ethereum wallet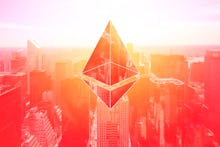 In 2013, Vitalik Buterin created a virtual currency named ether that is organized on a blockchain called Ethereum. It's the second-largest cryptocurrency in the world and is more than just a digital alternative currency: it's a "virtual computing platform."
To purchase ether, consumers have to have a digital Ethereum "wallet." The wallet is required for selling and holding ether as well. Think of the digital wallet as less of a space that contains your ether and more of an address that registers all your transactions. Motherboard reports that by getting an Ethereum wallet, you are essentially "creating a pair of unique cryptographic keys."
HuffPost recommends Mist for desktop users and the Jaxx.io smartphone wallet app for smartphones. Motherboard, on the other hand, suggests myetherwallet, Nano Ledger or Trezor.
And then there are exchanges, which allow you to purchase more ether. These are the likes of Blockchain, Circle or Coinbase. Here, you can convert government-regulated currency (like dollars) into decentralized digital currency.
There is a finite supply of ether: the cryptocurrency is capped at 18 million ether per year, according to its website. Currently, there are reportedly 90 million ether available.
The virtual currency market is notoriously volatile — on Monday ether jumped to an all-time high only to plummet by 25% on Thursday. To track trading values, visit sites like CoinDesk.com and CoinMarketCap.com.