'Westworld' showrunner Jonathan Nolan shares first look at season 2 premiere script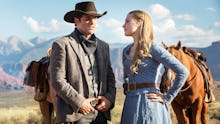 Fans of HBO drama Westworld know that there is no place better to head for spoilers and fan theories than Reddit (though coming to Mic is a great idea, too). Reddit has become so great at predicting Westworld's many twists that showrunner Jonathan Nolan recently revealed he had to change a planned season two plot swerve.
So it's not surprising that Reddit has delivered yet another one of the more juicy spoilers for season two — even though we still have quite some time before its premiere. What may be surprising, however, is that the source of the spoiler is actually Nolan himself, a frequenter of the social news site, who just revealed the title to the season two opener.
Reddit user Brew_Swillis recently started a thread asking Westworld fans to stop posting pictures of every single maze they see. "Just because you see a maze doesn't mean it's quality Westworld-related content," Brew_Swillis wrote. "4 of the top 10 posts currently are just pictures of random mazes/labyrinths, and have nothing to do with the show."
Well, Nolan, a verified Reddit user, responded with a simple, "Nope." Click his response, and it takes you to the following picture.
Though the maze button is covering the full title of the script, the picture suggests that the season two premiere will be called "Journey Into Night."
That also happened to be the name of Robert Ford's final narrative. Ford, played by Anthony Hopkins, was apparently killed during the unveiling of the narrative by Evan Rachel Wood's Dolores, who by that point had become sentient. Perhaps this means that season two of Westworld will pick up immediately where the series left off.
If not, could the title be hinting at some of Ford's plans that have not yet been realized? Who knows (probably Reddit)? But we'll find out soon enough, as surely more news — and spoilers — will continue to drop before Westworld's return.
Mic has ongoing coverage of Westworld. Please follow our main Westworld hub here.