Best Buy Nintendo Switch Stock: Keep your eyes on the website if you still need to buy the console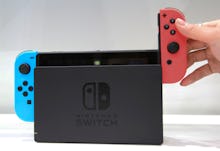 It's really difficult to find a Nintendo Switch these days. Between Target, Amazon and Toys R Us, you've got to keep your head on a swivel in order to spot those deals. Best Buy appears to have the consoles available online, but who knows for how long.
According to Wario64 on Twitter, there's been a sighting on the Best Buy website for fresh Switch stock.
Best Buy's site reads "sold out" at the time of this writing, but Best Buy is often the surprise stock out of the bunch. If you've got the time, call your local Best Buy to see if they have stock sitting in the back and get there as soon as it opens. We've seen instances where people have been able to walk into the store and walk out with a Switch, just by happenstance.
More Nintendo Switch news and coverage
Looking for more Nintendo Switch news? Check out how blind gamers are using the Nintendo Switch. Nintendo's left Joy-Con issue turns out to be a hardware problem — here's how to solve it. Find out how to buy a console amidst the recent restock. Learn why the Switch cartridges taste so bad. Check out our comparison photos sizing up the Switch to the Wii U GamePad (part one and part two), or find out how to make use of ethernet without the dock and the best way to get alerts when new stock arrives.