Alison Brie is ready to be team captain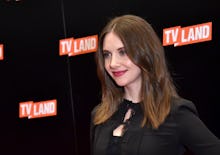 Alison Brie is wearing a shirt that says "villain." She's sitting in the Roaring Fork restaurant in Austin, Texas, hours before screening her new Netflix show Glow to an audience at the ATX Television Festival. The shirt's an unusual look for Brie, an actress whose face projects nothing but kindness and joy as she smiles perpetually.
In Glow, as Ruth Wilder, Brie plays more of an antihero than a villain. An actress low on luck, Ruth is the kind of "difficult woman" seen throughout the current Golden Age of television. Her thorny demeanor and complex motivations feel reminiscent of women like The Closer's Brenda Leigh Johnson and Scandal's Olivia Pope. She sleeps with the wrong man — married, most problematically — and acts mostly out of self-interest, even attempting to throw a colleague under the bus in the pilot.
But Glow is not just any kind of show: Glow is about women's wrestling, based on the very real 1980s TV program Glorious Ladies of Wrestling. It's in the ring that Ruth goes full heel — and Brie lives up to the shirt she's wearing. She gets to have her multifaceted character and chew the scenery in wrestling fantasy sequences, too, serving face as she slams her opponents.
"That's what is interesting about this show, is the depth to the characters, and the fact that these women are so complicated," Brie said during a Q&A after the pilot's screening. "Their lives outside the ring are totally gray and complex and weird and messy."
These kinds of women are filling up Brie's resume these days, including the animated (as writer Diane Nguyen in fellow Netflix show BoJack Horseman) and the cinematic (as the lead nun, chaste-but-curious Alessandra, in the new Jeff Baena film The Little Hours, out June 30). They represent a kind of graduation for Brie from being a dependable supporting player on shows like Community and Mad Men to a full-fledged star. On the eve of Glow's Friday release, Brie is ready to take that next step.
Brie, a 34-year-old California native, has worked consistently since 2007, mostly taking small roles in forgotten movies and TV shows. Prestige advertising drama Mad Men sticks out in her body of work, as it's the first classic title on the list. As Trudy Campbell, ad man Pete Campbell's perky but persevering wife, Brie stole scenes throughout her run on the show. (In a series-best episode, season three's finale "Shut the Door. Have a Seat," she manages the installment's most delightfully surprising moment with her sharp, faux-chipper delivery of the line "Peter, may I speak to you for a moment?")
Two years into Mad Men's run, Brie took a series regular role on community college sitcom-turned-parody series Community. As Annie Edison, Brie perfected her squeaky-clean character type, but revealed the darker sides of the ace student — an Adderall addiction, estrangement from family — over six seasons. This is a quality Annie and Trudy both share with Ruth: women who offer so much more than their surface-level traits.
"I don't want to say that I've not played empowered women before, because I feel like I have," Brie said during a junket for The Little Hours in the Four Seasons Hotel Los Angeles at Beverly Hills, a few days after the ATX screening. "[Trudy] is an amazing character. Even Lainey in Sleeping With Other People [Leslye Headland's 2015 rom-com] had her own take on romance. So I guess I am inspired by powerful women."
Community's notoriously disappointing ratings kept Brie from breaking out. A relatively small role in the dead-on-arrival Scream 4 didn't help matters. Fast-forward to today, however, and Community and Mad Men have ended their runs, but Brie is pressing on.
With bigger roles comes greater responsibility on set. Glow may be an ensemble show, akin to executive producer Jenji Kohan's other Netflix show, Orange Is the New Black, but Brie is unquestionably the lead. It's a leap that Brie herself said she was ready to take on.
"I did think of myself sort of as a team captain," Brie told Mic at a junket for The Little Hours, describing her time on the Glow set. "More than anything, I wanted to set a great example for everyone on set. I wanted to be on time, be the first to set, be the first to try any new wrestling move. I wanted to put myself out there in an enthusiastic way, and be gracious on set — hope that would trickle down to everyone."
Considering the high degree of difficulty on the Glow set, it's an ambitious role to take on. A show about a wrestling show, which (as creator Liz Flahive noted at the ATX Fest roundtable) requires the stars to do most of their own stunts, including body slams and sleeper holds, demands dedication — especially since the creators themselves were coming in blind.
"We had never heard of G.L.O.W.," Flahive admitted at the roundtable. Once they discovered the '80s curio, they immersed themselves in the neon-lit world — and got Kohan on board with what Flahive describes as a two-line email. "We watched all the old episodes of G.L.O.W., and it was bananas," Flahive continued. "How had we never heard of it? How has no one touched this yet? We wanted to make it our own thing."
In a move that would make Annie Edison proud, Brie prepared for Glow by simply doing her research. "The first thing I did was Google the original G.L.O.W.," she explained during the post-screening Q&A. "It's unlike any other wrestling you could watch. G.L.O.W. really was its own thing, and it is bizarre and outrageous and radical. The characters that these women created are so over-the-top. They're having so much fun, and then the wrestling is really scrappy and wild."
She also watched the 2012 documentary Glow: The Story of the Gorgeous Ladies of Wrestling, which was Flahive's way in as well. Through this research, Brie was able to identify with women exhibiting something more primal — which, as her Glow co-star Betty Gilpin put it, isn't actually that foreign a feeling.
"One second, you're in traffic feeling like the smallest dot in the universe," Gilpin said at the roundtable. "And then, you're like, 'I do have the capacity to step out of my car right now, take off all my clothes and scream.' That would feel natural. I think those things exist at the same time throughout your entire life, and I think wrestling taps into that."
Like Kohan's Orange Is the New Black, Glow is stacked with female characters that inhabit that sort of dichotomy — a major draw for Brie. "It's shows like these that are waging the war against boring, meek female characters," she explained during the roundtable. "This show's existence is a step in the right direction."
During both the roundtable and the post-screening Q&A, questions about the show as a showcase for strong women came up repeatedly. Brie didn't shy away from any of them — in fact, during that Q&A, she blasted sexist audition processes that still exist in Hollywood. She even went viral for a quote about being asked to audition topless for Entourage. (She later had to clarify that she was wearing a bikini top under her top.)
The comparison is interesting, though: As an actress, the Ruth Wilder character goes through many of the same frustrations. When viewers meet her in the pilot, she's reading a man's role in an audition — it's assumed to be accidental, but it's actually a gambit to impress the casting director.
"I've experienced the same kind of frustration at wanting to play more dynamic roles," Brie said at the roundtable. "I've never read the man's part at an audition — I've not had quite the balls."
Still, as Brie explained during the Q&A, she's dealt with more than her fair share of difficulties in the audition system. "I've gone through audition processes for Marvel movies, and auditioned a million times for roles with three lines," she said. "Begging for them! And I would've been glad to get them. It's brutal."
Now, with two series-regular roles (Glow and BoJack Horseman) and The Little Hours hitting theaters, Brie is riding high. After years of working in smaller parts, she's earned the right to be picky — and she's already exercising it by waiting for the right roles.
"Working on this show sets the bar so high," she explained at the Glow roundtable. "The roles are so interesting and rich and exciting that, you know, I have just not worked at all this year. I'm just gonna wait."
Whether that next role is a hero, a villain or, like Ruth, something in between, there's little doubt that she'll be complex. Brie won't settle for less — nor should she have to.
Mic has ongoing TV coverage. Follow our main TV hub.