Because we live in dark times, here are 29 GIFs of Rihanna's outfits from the "Wild Thoughts" video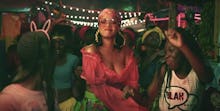 Hello, fellow member of the We're-Living-Through-2017 Club. How are you doing, love? We know. It's been tough. This year has taken a lot out of us. The news cycle. Twitter. It's just, you know, hard. It's tough to be a human being in 2017.
But there is at least one person who's making this year a little bit better. Truly one shining light through this shit storm. It's Rihanna.
Yes, Rihanna really may end up saving us all.
In between her carefree affection for nipple-baring outfits to her absolutely tremendous appearances at basketball games, she's one of the few pure things we have left in this world.
If you agree with us on all of that, we have extraordinary news. Rihanna was in a new music video. It just dropped on Friday, and it's for the song "Wild Thoughts," with DJ Khaled and Bryson Tiller.
Is there see-through clothing? Oh yes. Is there makeup inspiration? You bet. So to celebrate this momentous occasion, we've decided to gif as many gifs of Rihanna's outfits as possible from this video, because we need it — and we know you need it too.
Please, thank us later.