7 tricks to getting richer — not poorer — during summer vacation season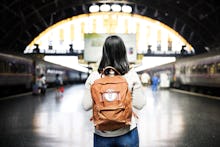 It's finally summer — time to book a vacation — but you may be feeling financial guilt, especially if you've already surpassed the average American's annual vacation budget. There certainly are plenty of ways to save money on travel, like by visiting attractions that are completely free (See: Savannah's historic district and Bryce Canyon National Park in Utah), sticking to destinations with cheap fun — like Chicago or San Diego — and zeroing in on deep airfare discounts.
But what if you could actually make money while you vacation, earning enough to offset part of, all of, or more than the cost of the trip?
It's true: You can have your vacation cake and get paid to eat it, too. These options are not something you'd want to depend on for a living, but thanks to the gig economy and the apps that support it, there are now a gaggle of opportunities to choose from to earn extra cash while you're relaxing poolside, exploring a new destination, or just chilling in your hometown.
Here are seven of the easiest ways for you to earn back some of that hard-earned money you're dropping on your trip — to the tune of tens, hundreds and even thousands of dollars.
1. Get paid to make a delivery
You might be familiar with a major app already in this space, PostMates. But another app, Roadie, has come along that not only allows you to do more types of deliveries, it allows you to deliver the parcel greater distances — perfect if you're taking a roadtrip. Grabr.io goes one step further and will pay you to become an international courier. A Grabr user posts the price of the item they found, and how much they're willing to pay; you then make an offer accepting their price (or a counter offer; perhaps they didn't realize customs fees), meet at a public place, and the payment gets made digitally once the user confirms they've received the item.
Potential earnings or savings: According to its FAQ, Roadie gigs usually pay between $8 and $50, while cross-country gigs that involve oversized items can pay up to $650, and even more for delivering pets. Plus you can write down the gas mileage. Grabr.io offers typically average $15 per item, and the site takes a 7% cut.
2. Do chores for free lodging
The best option for lodging while you're away is, of course, to stay with friends and family for free. But service HelpStay has come up with the next best option: Stay for free (after signing up for HelpStay for about $20 a year) while doing tasks around your host's property, like tidying up, tending to animals, teaching, gardening or cooking and thus earning your keep.
This super quick video explains more about how it works.
Potential earnings or savings: How much were you planning on paying for lodging? Over a 12-night stay for lodging worth $100 a night, you've just saved $1,200.
3. Sell your snaps
You're going to be taking photos on your trip anyway — why not try to get paid for them? If you upload them to Shutterstock or iStock and they get downloaded, you get a cut of the royalties.
Shutterstock has a "success guide" that will help guide you to creating a lucrative revenue stream, with the three "hooks" that most stock services are looking for summed up as...
• Authenticity: "People and activities should look natural, relaxed, and 'real.'"
• Diversity: "For years, buyers have been asking stock agencies for images that reflect how culturally diverse our world is in a way that feels honest and accurate."
• Reflections of local culture: "Shutterstock serves a global audience. Does a business meeting in Hong Kong or Rio De Janeiro look exactly the same as one in London or Rome?"
Potential earnings or savings: The royalties may be slow and steady to trickle in at first, but if you take one amazing photo of an in-demand destination or situation, they could be good — and how much you earn will depend on who's downloading your images. Shutterstock will initially pay you $0.25 every time one of your images is downloaded by someone with a regular subscription plan. Once you reach $500, your royalty fees start to increase, up to $0.38 per download. See the earnings schedule here — over enough years you could be making $10,000.
4. Gig around while wandering
If your travel days aren't going to be filled to the brim with activities, you may want to take advantage of one of the myriad apps now available that allow you to perform small tasks for money. You've probably heard of TaskRabbit, but lesser known ones like FieldAgent and GigWalk, which dispatch you to do sometimes-fun market research, are equally good options.
If you are naturally social and know an area really well — or are taking a staycation — you could also act as a tour guide, through a site like RentALocalFriend, Vayable and ToursByLocals.
Potential earnings or savings: If you take four gigs over two weeks, each averaging $6.50 (most gigs pay between $5 and $8), you can earn $26. You can earn even more as a tour guide: RentALocalFriend, for instance, lets you set your own price, and has a minimum of $50, though 30% is kept by the site.
5. Rent out your apartment
First, a word of warning: Many apartments and even entire cities now restrict the use of short-term rentals — and the price of getting caught is much higher than what you'd earn from trying to skirt these bylaws.
If you are lucky enough to be allowed to rent out your place, there's always Airbnb, which remains the most high-profile site on the market; you are practically guaranteed to get interest there, as long as you do a good job of maintaining your listing (quality photos, detailed info, etc.). But Airbnb takes a 3-5% commission on all listings — so you may want to consider some other options that offer a similar service.
FlipKey for instance, has a free-to-list option; and since it's owned by TripAdvisor, your listing has an enormous built-in audience. Other free-to-list sites include HomeAway and VRBO.
Potential earnings or savings: If you're gone for 12 nights and have a decent enough apartment (charging, say $80 a night), you've just banked $960.
6. Rent out your car or parking space
Maybe your building doesn't allow you to rent out your apartment. But perhaps you can get away with renting out your parking spot, and even your car. For the former, there's ParkingSpotter (and of course Craigslist). For the latter, there's Turo (formerly RelayRides).
Potential earnings or savings: Most ParkingSpotter contracts are monthly, and average around $200. If you were to make it weekly, you'd be making $50 minus commissions. Via Turo, most users charge around $28 daily for use of their cars, so over 12 days you could earn about $336 (minus commissions, which range between 10% and 35%, depending on your insurance situation).
7. Earn cash for shopping
The app CoSign allows you take a photo of a popular item you've purchased, tag the brand and retailer and post it to social media. If someone makes a purchase through the link you've posted through your share, you get paid. It's basically getting paid to post to Instagram — something you're probably already doing for free.
Potential earnings or savings: CoSign takes between 5% to 35% off the sale of an item, although CoSign's own commission rates for app users are variable. As a result, it's difficult to say what you'll be making (CoSign did not respond to a request for comment). But in a recent interview, cofounder Abiodun Johnson said, "If you have a lot of influence, you could potentially do this full-time."
Sign up for the Payoff — your weekly crash course on how to live your best financial life. Additionally, for all your burning money questions, check out Mic's credit, savings, career, investing and health care hubs for more information — that pays off.