Max Brass 'Arms' DLC Release Date: When can you get the new fighter on Nintendo Switch?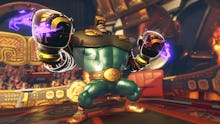 Arms DLC is already on its way in the form of new fighter Max Brass. Max Brass promises to be a strong contender due to his unique ability and trait, but don't worry; you won't have to pay to play with this metal man. Like all announced Arms DLC, Max Brass can be downloaded free of charge when he releases.
Max Brass Arms DLC: Abilities and traits
Max Brass comes with an immensely useful ability and trait, which will make him a great fighter for beginners and veterans alike. His trait lets him avoid flinching when he takes attacks with his arms charged. His ability allows him to gain permanently charged arms when his health is below 20%.
Max Brass should be able to shrug off attacks that would take other fighters down. If he does get taken down to low health, he'll be able to dish out damage even faster. This should make him a good all-around fighter.
Max Brass Arms DLC: Release date
Nintendo confirmed via their E3 2017 livestream and Twitter that Max Brass will be available sometime in July. Before that, players can look forward to DLC before the end of June that will allow for a spectator mode so you can watch Arms matches live.
More news from Nintendo at E3 2017
Check out even more news from Nintendo's big E3 2017 presentation, including an exciting look at Super Mario Odyssey, new details about the Zelda: Breath of the Wild DLC and confirmation that Rocket League is coming to the Switch. Plus the latest on new Metroid and Kirby games on the way.