'Fear the Walking Dead' exclusive video reveals what happened to Daniel after the season 2 fire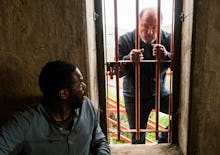 Where in the world has Daniel Salazar been? That's what Fear the Walking Dead fans were left wondering when season three, episode three revealed that Ofelia's father did not die in the cellar fire in season two. Daniel's been missing in action for quite some time, but he's alive and well — and Mic has an exclusive clip that teases what he's been up to.
The sneak peek from episode four of the AMC series flashes back to a time between the fire at the Valle de Guadalupe compound and Strand's capture at Dante's dam. It's not clear how Daniel survived the fire, but he somehow ends up with another survivor who may or may not have been a priest in his pre-apocalypse life.
Where is Daniel? How did he get injured? Who is the mysterious man that he's with? And how does he end up at the dam with Strand? AMC's official synopsis for episode four, titled "100," is just as cryptic as the video.
A mysterious character searches for purpose and soon becomes tied to the struggle over a key resource in the apocalypse.
Fans can watch more of Daniel's backstory unfold when episode four airs on AMC Sunday, June 18 at 9 p.m. Eastern.
Mic has ongoing Fear the Walking Dead coverage. Check out our main Fear the Walking Dead hub here.