What does Michelle Carter's guilty verdict mean for future texting and social media cases?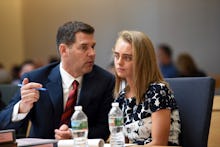 On Friday morning, Michelle Carter, 20, was found guilty of involuntary manslaughter in the 2014 death of her then-boyfriend, 18-year-old Conrad Roy III — raising questions about whether or not online behavior can be legally tied to real-life harm.
In handing down his verdict, Massachusetts Juvenile Court Judge Lawrence Moniz said that Carter, who sent texts encouraging Roy to go through with plans to end his life, had displayed "wanton and reckless conduct" when she told Roy, on the day of his death, to get back into the parked truck in which he died.
The guilty verdict came as a surprise to legal scholars, the New York Times reported Friday, particularly because in Massachusetts it's not illegal to encourage someone toward suicide, and because Carter wasn't physically present when Roy died.
The verdict could potentially open the door for more cases in which people are tried for harm caused to others through their actions online or on social media, according to Roy Gutterman, a First Amendment scholar and the director of the Newhouse School's Tully Center for Free Speech.
In a phone interview Friday, Gutterman said if someone were to send "a whole bunch of insensitive or aggressive texts … and some harm occurs, [that person] still might be responsible," even if the author of the texts didn't physically cause the harm.
"I see a potential slippery slope here," Gutterman said, noting that the verdict in the Carter trial could potentially open the door to "misuse or over-application of legal standards." But still, he said, "trials and verdicts like this don't actually set legal precedent."
Laurie Levenson, a professor of law at Loyola Law School, said in an email interview that Friday's verdict is "important," but "it won't be legally binding on other courts."
"It is just an indication that some judges will be willing to find a manslaughter even when the encouragement comes from texting," Levenson said. "Issues of causation and homicide are not new. We just have new means to commit old crimes."
According to Gutterman, one of the issues at play in Carter's trial was the issue of whether or not intent can be determined when the evidence in question is all online.
"If you point a gun at somebody, you're pretty much intending to shoot them," Gutterman said. "What we see with social media and modern media is a real vagueness ... did [Carter] really want [Roy] to kill himself? We'll never really know."