Steve Wozniak: "Access to a free internet should be an American principle"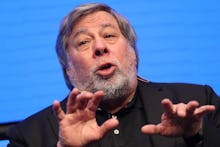 When it comes to the investigation into the Trump administration's ties to Russia, don't focus on President Donald Trump; watch the FCC commissioner, because without a free and open internet, you might never see what's really going on.
That's the assessment of Apple Co-Founder Steve Wozniak. In an interview Thursday, the "Woz" said Americans need to be aware of efforts by the Trump-appointed FCC commissioner, Ajit Pai, to roll back net neutrality.
And they need to speak up.
"He wants to get rid of fairness and equality on the net," Wozniak said of Pai. Pai has begun walking the commission away from unequivocal support of an internet where companies cannot pay for favored access.
"Do what I did — contact every one of your representatives and speak out," Wozniak said. The commission is taking comments on their proposed rollback until mid-August.
The creator of the first personal computer, speaking at Phone2Action's Good Tech Summit in Washington, D.C. warned that too few people are aware of the fight over maintaining Obama-era open internet protections.
"Net neutrality" means websites cannot pay to load faster than others. It also means internet service providers, like Comcast, cannot force websites that eat up large amounts of bandwidth, like Netflix, to pay extra for their use of the web.
In May, the Federal Communications Commision voted to begin reversing the Obama-era codification of net neutrality. Rolling back those rules would allow ISPs to interfere in what online content and services people can see. The net neutrality fight in 2015 famously drew more than a million online comments to the FCC website, particularly thanks to HBO host John Oliver. Of the more than 700,000 legitimate comments made on the website, 97% favored net neutrality.
Wozniak said the issue is the only thing that has driven him to engage in politics. He said he's twice flown to D.C. to speak with FCC leaders about the value of an open internet.
"Access to a free internet ... should be an American principle," Wozniak said. "It shouldn't be ... those at the top and already in position can control what you have access to."