Mother of Philando Castile: "My son loved this city, and this city killed my son."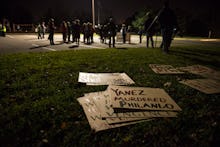 Shortly after a jury found Officer Jeronimo Yanez not guilty of second-degree manslaughter in the death of Philando Castile on Friday, Castile's mother gave a clear-throated, vehement condemnation of the state of Minnesota — and by extension, the rest of the nation — for allowing police officers to fatally shoot peaceful black citizens with impunity.
"My son loved this city, and this city killed my son," Valerie Castile said outside the courthouse Friday, "We're not evolving as a civilization, we're devolving."
"Just because [Yanez] was a police officer, that makes it OK," Castile said sarcastically, addressing the pattern of police officers receiving acquittals after fatally shooting black Americans. "He's found innocent on all counts. He shot into a car with no regard for human life, and that's OK. Thank you, Minnesota."
"I said in July when I first stood before you that I believed this case would mark a turning point in this nation. I'm disappointed that it has not." Glenda Hatchett, a lawyer for the Castile family, said Friday.
In July 2016, Diamond Reynolds, Castile's girlfriend, broadcast the aftermath of her boyfriend's fatal encounter with police on Facebook Live. The graphic video, which showed Castile bleeding to death in his car, was seen nationwide.
"I am incredibly disappointed with the jury's verdict," Reynolds said in a statement Friday. "[Castile] was pulled over because, per Officer Yanez, he had a wide nose and looked like a suspect."
Reynolds' statement refers to a recording obtained by an NBC affiliate in July that appeared to capture an officer racially profiling Castile.
"The driver looks more like one of our suspects, just 'cause of the wide-set nose," an officer on the recording allegedly said of Castile.
In July 2016, protesters affiliated with the Movement for Black Lives twice shut down Minnesota interstates in response to police fatally shooting Castile.