Valentina wins Miss Congeniality on 'RuPaul's Drag Race' reunion — but some queens aren't happy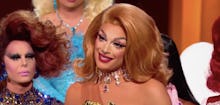 Since the very beginning of RuPaul's Drag Race's time on television, each season, fans have chosen a Miss Congeniality through an online vote. The results of this vote have varied in success: Sometimes, the kindest, most helpful queen really does win, like in season three with Yara Sofia, season five with Ivy Winters and season eight with Cynthia Lee Fontaine.
But sometimes, it's used more as a fan favorite prize, given to someone who wasn't necessarily the most congenial, but built an impressive fan base. BenDeLaCreme really wasn't more congenial than Joslyn Fox in season six, nor was Pandora Boxx kinder than Jessica Wild in season two or Katya nicer than Jaidynn Diore Fierce in season seven. Only rarely has the prize gone to a truly congenial queen who was also the clear fan favorite: to Nina Flowers in season one and Latrice Royale in season four.
Until now, arguments about who won which season's Miss Congeniality have mostly stayed among fans. But during Friday's season nine reunion, those complaints came out hard and fast.
After a reunion filled with tension — much of it between the other queens and fan favorite Valentina, both about her failure to lip sync to Ariana Grande's "Greedy" and about her fans' fervent, vicious attacks on her competitors — Cynthia joins RuPaul in presenting this season's Miss Congeniality prize. This year, the fans voted for their favorite: Valentina.
Considering the tone and tenor of the reunion so far, this comes as a shocking development, particularly to ninth-placing queen Aja. Valentina and Aja had one of the season's most memorable showdowns, when the latter "aggressively complimented" Valentina (her words) in Untucked. While earlier in the reunion, Aja compliments Valentina, saying she loves her for being "secretly one little bitch," this development becomes too much to bear.
"I don't wanna be the one, but I'm gonna be the one," Aja says. "I just don't feel like you should be Miss Congeniality.
Eleventh-place queen Eureka's reaction says it all:
The drama is delicious, but Valentina's not having it. Her defense is succinct: "I've been kind to every single one of you. And I will continue to be kind toward success."
Now, if you could guess which queen would pipe up next, who would be your guess? Sasha Velour, perhaps? Shea Couleé? Maybe the former Miss Congeniality, Cynthia?
Nope, it's eighth-place queen Farrah Moan — a worthy Miss Congeniality herself, so kind she was all season. But at this moment, Farrah is not feeling kind. Farrah is furious, and she comes out of the gates swinging at Valentina.
"Valentina, we literally did everything together this whole show," Farrah said. "We were such close friends, and you literally have not spoken to me in almost five months. And I really miss my friend. It really hurts my feelings that you have not spoken to me."
While Valentina tries to defend herself, telling Farrah she respects and loves her, Farrah holds nothing back. "You don't love me," she shoots back. This time it's Aja with the perfect reaction:
This goes on for a bit, with Valentina continually trying to parry ("Text me, call me" is met with an angry "I have texted you! You ignore my texts" from Farrah) until eventually Aja leads a campaign to get the award officially declared "Fan Favorite" instead of Miss Congeniality. Farrah then proceeds to lead the queens in what can only be described as the most sarcastic round of applause.
When Trinity Taylor tries to clear the air, and Farrah interjects again to express her annoyance, Valentina finally takes her mask off and shows her true colors.
"Farrah Moan, just shut up already," our new Miss Congeniality practically spits across the stage.
Whether Ru decides to change the award title permanently next year or not, one thing is certain: This season, after divisive wins and eliminations, the most controversial win of all came at the very end. Congratulations to Valentina: Whatever your award is, you won it fair and square.
RuPaul's Drag Race airs its season nine finale next Friday, June 23, at 8 p.m. Eastern on Logo.
Mic has ongoing RuPaul's Drag Race coverage. Follow our RuPaul's Drag Race main hub.