Report: WVIT, Connecticut NBC station, won't air Megyn Kelly's upcoming Alex Jones interview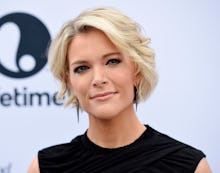 According to an internal memo obtained by TVNewser, WVIT, the station known publicly as NBC Connecticut, has chosen not to air an upcoming episode of Sunday Night With Megyn Kelly that features an interview between Kelly and controversial right-wing provocateur Alex Jones, who founded the conspiracy blog InfoWars.
"Over the last few days, we have listened intently to Sandy Hook parents, our viewers and importantly, to you," the memo to staff said, "Because those wounds are understandably still so raw, we have decided not to air this week's episode of Sunday Night With Megyn Kelly."
The memo told staff the network would "continue [its] local coverage," which includes a special report on Sandy Hook featuring interviews with parents who lost their children when 20-year-old Adam Lanza entered Sandy Hook Elementary in Newtown, Connecticut, and opened fire in December 2012, killing 20 children.
Though a Crunchbase entry dates InfoWars' founding in 1995, it and its founder only rose to national prominence in 2012 after claiming the massacre at the school in Newtown was a hoax. TVNewser points out that Newtown is located in WVIT's market, possibly suggesting larger public pressure on it than any other NBC station.
In a preview of the interview released last Sunday, Kelly does grill Jones on his baseless accusation about the mass shooting; however, Jones on Thursday made publicly available audio that the blogger claims he took of Kelly. The audio appears to reveal Kelly assuring Jones she would not ask him any "gotcha" questions.
In response to the announcement that Kelly would interview Jones, multiple advertisers — including J.P. Morgan — reportedly pulled their commercials from NBC.