Bill Cosby Trial Update: Day 5 of deliberation ends with deadlocked jury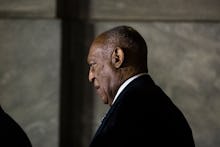 The fifth day of jury deliberations in the Bill Cosby sexual assault trial ended with the jury still unable to reach a verdict, according to Penn Live. It will resume deliberation on Saturday.
According to the report, Cosby's defense attorney Brian McMonagle asked for the judge to declare a mistrial "just before 9 p.m.," a plea Judge Steven T. O'Neill denied.
Cosby is accused of drugging and molesting Temple University employee Andrea Constand in his home outside Philadelphia in 2004. According to Constand's testimony, Cosby coaxed her into taking three blue pills, which she said paralyzed her. He then forced himself upon her, she testified.
According to ET, more than 50 women have come forward to accuse Cosby of drugging or sexually assaulting them.