Several US sailors dead after merchant ship rams USS Fitzgerald off Japan coast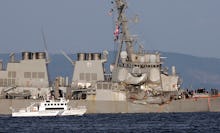 According to the U.S. Navy, "a number of" the U.S. sailors who went missing after a cargo ship barreled into the USS Fitzgerald on Saturday have died.
In its latest statement, the Navy did not offer an exact death toll. According to the New York Times, however, a search and rescue mission for the seven missing soldiers has concluded.
The collision, which occurred around 2:30 a.m. local time off the coast of Japan, caused severe damage to the ship's starboard side above and below the water line and caused flooding in several parts of the ship, according to a statement obtained by CNN. The bodies of the missing sailors were found in the ship's flooded berthing compartments. The Navy plans to release names after the sailors' families have been notified.
The merchant vessel that collided with the Fitzgerald is the ACX Crystal, a container ship. The container ship was flagged in the Philippines, though currently chartered by a Japanese shipping company. The two collided about two hours before the ACX Crystal was expected to dock in Tokyo. The Fitzgerald has since been towed to port.
Pictures released of the ACX Crystal show damage to the ship's bow.
According to the website Marine Traffic, the ACX Crystal weighs 29,060 tons, while the USS Fitzgerald is 10,000 tons, CNN reported.
Carl Schuster, former director of operations at the US Pacific Command's Joint Intelligence Center and a Hawaii Pacific University professor, told CNN that tight maneuvering could have been the problem. He also said the Fitzgerald's much smaller size, about one third the tonnage of the ACX Crystal, makes it vulnerable.
This is the second collision in two months in the region. According to CNN, in May, a South Korean fishing boat collided with a U.S. Navy ship.
June 18, 2017, 9:43 a.m.: This article has been updated.