Colin Kaepernick is jobless because the NFL is a "meritocracy," says Commissioner Roger Goodell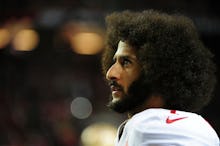 Colin Kaepernick still doesn't have a job — and according to NFL commissioner Roger Goodell, that has nothing to do with his high-profile national anthem protest last year.
"It did spark conversation, which I think is a part of what Colin Kaepernick intended to do," Goodell said onstage Thursday at the NFL Network's "Rams All-Access" event in Los Angeles. "I don't think that's going to affect people from saying, 'I'm going to do what's in the best interest of my football team and give my team the best chance to win,' because that's what every team wants to do."
Goodell's remarks came as all 32 NFL teams concluded their summer workouts, leaving Kaepernick effectively unemployed — and without any sign that'll change anytime soon.
Kaepernick was selected 36th overall in the 2011 NFL Draft by the San Francisco. He took over the starting job in 2012 after then-49ers' quarterback Alex Smith had a concussion, and led the team to the Super Bowl, where they were defeated by the Baltimore Ravens. Since then, Kaepernick has continued to play pretty solid, if at times frustrating, football — even as his Niners in recent years slowly morphed into hot garbage.
Beginning in the 2016 preseason, Kaepernick refused to stand for the national anthem in protest of systemic racism and police brutality in America — setting off anthem protests across the NFL, colleges and high schools, as well as fiery backlash from critics who called him "un-American."
President Donald Trump has been among Kaepernick's high-profile critics, railing against him multiple times during the 2016 presidential campaign and taking credit for Kaepernick's continued unemployment in March.
After saying during the campaign that Kaepernick should "find a country that works better for him," Trump gleefully boasted at a rally in March in Kentucky of his role in effectively blackballing a private citizen who was exercising his freedom of speech.
"There was an article today, it was reported that NFL owners don't want to pick him up because they don't want to get a nasty tweet from Donald Trump," Trump said. "You believe that?"
Kaepernick has remained a free agent since — even as teams have signed players with legal issues and players who have simply not been as good as Kaepernick, who in a 2-14 season for the Niners still managed to post a strong 90.7 passer rating and a solid 16:4 touchdown-to-interception ratio in 2016.
Most recently, he was in the running for a backup job with the Seattle Seahawks, but was passed over in favor of Austin Davis, who hasn't played since 2015.
Some considered the Seattle gig as the Seahawks' star quarterback Russell Wilson's understudy as Kaepernick's last shot in the NFL.
According to Goodell, all that has nothing to do with Kaepernick's politics — the NFL is a "meritocracy" and "those are football decisions."
Teams "all want to get better," Goodell said Thursday. "I believe that if a football team feels that Colin Kaepernick, or any other player, is going to improve that team, they're going to do it."
Kaepernick, for his part, has continued to speak out on social issues — most recently on Friday, after Officer Jeronimo Yanez was found not guilty of second-degree manslaughter in the July killing of black motorist Philando Castile in Minnesota.