Judge declares mistrial in Bill Cosby sexual assault case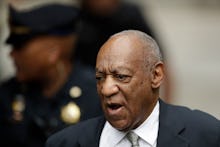 A judge Saturday declared a mistrial in the sexual assault case against Bill Cosby.
Judge Steven O'Neill's ruling came after more than 50 hours of deliberation by a deadlocked jury, effectively ending the trial for the 79-year-old comedian.
Montgomery County District Attorney Kevin Steele has already announced that prosecutors will retry the case.
Cosby was facing three counts of aggravated indecent assault for allegedly sexually assaulting Andrea Constand, a former employee of Temple University's women's basketball program, in 2004. Each count carried a potential 20-year prison sentence.
The 12 jurors — four white women, six white men, one black woman and one black man — have been deliberating since Monday, and on Thursday told O'Neill they could not "come to a unanimous consensus on any of the counts."
On Thursday, Cosby's defense team called for a mistrial, but O'Neill ordered jurors to continue deliberations.
When jurors remained deadlocked on the sixth day of deliberations Saturday, O'Neill granted the mistrial.
"This is neither a vindication or a victory," O'Neill said, according to the New York Times.
Cosby, who has been accused of drugging and sexually assaulting dozens of women, "reacted calmly" to the announcement, according to the Times, and Steele announced in the courtroom that he would retry the case.
June 17, 2017, 11:04 a.m. Eastern: This story has been updated.