18 protesters in Minnesota arrested after Philando Castile verdict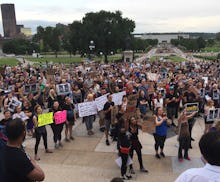 Minnesota State Patrol arrested 18 people protesting after a jury found Officer Jeronimo Yanez not guilty for the shooting of Philando Castile, according to one of the patrol's Twitter accounts.
Protesters were arrested for failing to leave St. Paul, Minnesota's Interstate 94, according to the agency's tweets Saturday.
According to CNN, 2,000 people marched peacefully Friday onto the freeway in opposition of the verdict, chanting and singing hymns. Protesters shut down traffic late Friday night while chanting "Black lives ... they matter here!"
In a Facebook event, organizers wrote that the verdict "shows how the system is rigged against justice for victims of police terror."
"If we can't count this system to just give us justice, we need to come together and make our own justice," the event reads.
Yanez was found not guilty for the July shooting of Castile, a 32-year-old black school cafeteria worker. Video shot and streamed on Facebook Live by Castile's girlfriend, Diamond Reynolds, showed Castile bleeding after being shot and Yanez continuing to point a gun at him.
The verdict came after five days of deliberation. Had he been convicted, Yanez would have faced 10 years in prison.
Yanez "chose to use deadly force as a first option, not a last resort," prosecutor Jeff Paulsen told jurors during closing arguments Monday, according to WCCO.