Hulu embraces Babadook the gay icon with rainbow-colored welcome screen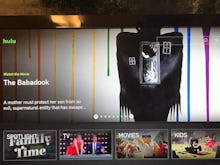 Count Hulu among those who recognize that the Babadook is 2017's biggest LGBTQ icon.
On Friday, several people on social media began to share images of Hulu's home screen, which featured The Babadook with a digitally altered background: rainbow-colored smears running down the wall behind him.
People on social media love it.
And, as one user pointed out, not only did they give Mr. Babadook an LGBTQ-themed makeover, they also put French lesbian-themed drama Blue Is The Warmest Color as a related title.
Mic reached out to Hulu for comment and will update when we hear back.
The Babadook became a gay icon after months of simmering conversation on Twitter and Tumblr as to how and why the monster is queer. In an earlier interview with Mic, Comic-Con queer horror panel curator Michael Varrati said, "This creature is trying to come out and be seen. By internet culture standards, it's a gay hero. The Babadook just wants to step out of the dark and into the light."
Ianstagram, a Tumblr user who was the first to comment on the creature's queer identity, told Mic it was clear the Babadook was gay because, "he dresses for the occasion and he's always serving drama."
June has been a banner month for homegrown LGBTQ icons, as Cuca, a Brazilian folkloric crocodile, has also surged in popularity among Twitter users and has been declared a queer symbol by some, as well.