Betsy DeVos' education department moves to reduce civil rights investigations in schools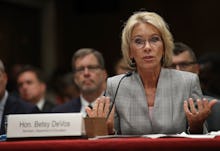 Secretary of Education Betsy DeVos will be downsizing the number of investigations it conducts into possible civil rights violations throughout the public school system, the New York Times reported on Saturday.
According to an internal memo issued by acting DOE office of civil rights director Candice E. Jackson, the Times wrote, investigators at the agency will no longer be required to "broaden their inquiries to identify systemic issues and whole classes of victims." They have also been instructed it is no longer mandatory to alert D.C. officials of "all highly sensitive complaints" like allegations of racial discrimination or failure to properly investigate campus sexual assaults.
As the Times noted, DOE investigations soared after Barack Obama's administration put an emphasis on systemic reviews and major reforms at school districts and colleges. Donald Trump's budget proposes cutting more than 40 jobs at the DOE civil rights division, while department spokeswoman Liz Hill emphasized the agency's new focus on efficiency in investigations in a statement.
The decision to roll back investigations comes not long after DeVos suspended Obama-era rules designed to make it easier for students to discharge loans for deceptive or fraudulent for-profit colleges. Jackson also recently defended new policies on the rights of trans students after one employee told the Huffington Post "officials should investigate issues of discrimination just as they would have before the Obama-era rules were implemented."
Jackson is the self-described "libertarian feminist" formerly best known for accusing 2016 Democratic presidential nominee Hillary Clinton of being a "rape enabler." As the Washington Post noted, Jackson's connections with women who had accused Clinton's husband, former President Bill Clinton, of sexual misconduct "became an asset" for Donald Trump's campaign after video surfaced of Trump bragging about assaulting women.