Trump forgoes Mar-a-Lago this weekend to celebrate Father's Day with first Camp David getaway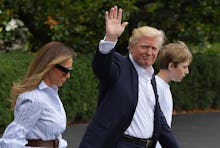 Waving to cameras as Melania Trump and Barron Trump kept their heads down, President Donald Trump boarded Marine One on Saturday to fly to Camp David for a Father's Day weekend getaway.
This will be Trump's first visit to Camp David, the Maryland retreat where presidents seclude themselves in nature among the Catoctin Mountains.
Trump has disparaged the down-home getaway in the past.
"Camp David is very rustic, it's nice, you'd like it," Trump told a European journalist when he was president-elect, according to the Washington Post. "You know how long you'd like it? For about 30 minutes."
According to a Camp David blog, linked from the official White House website, Trump and his family will stay overnight in the Aspen Lodge and return home Sunday afternoon. Melania's parents will join them, the blog said.
Originally for federal workers, Camp David became a presidential retreat during the Franklin D. Roosevelt presidency. The 125-acre grounds include over a dozen cabins, tennis courts, a swimming pool, a bowling alley, a movie theater and a single golf hole.
According to the Washington Post, presidents have used Camp David for a multitude of reasons. Eisenhower watched movies with Soviet leader Nikita Khrushchev, while Ronald Reagan rode horses and hosted British prime minister Margaret Thatcher.
Carter struck a peace deal between Egypt and Israel there, while the elder Bush hosted Mikhail Gorbachev. The younger Bush attended the camp 149 times, while Barack Obama was there only 39 times, though one visit included a summit with state leaders in the Persian Gulf region.
The digs where Trump will sleep over the weekend are definitely less lavish than what he is used to at Mar-a-Lago or Trump National Golf Club in New Jersey.
Trump's weekends have been news fodder up until now because he usually spends them at the "winter White House," his Mar-a-Lago resort in Florida. By April, Trump golfed every 5.6 days of his presidency and spent a quarter of his tenure at Mar-a-Lago, where he often hobnobs with wealthy patrons and once ate a "beautiful" piece of chocolate cake while deciding to bomb Syria.
Each of Trump's Mar-a-Lago trips has cost American taxpayers about $3 million.