Businessman Donald Trump could benefit from President Donald Trump's new Cuba policy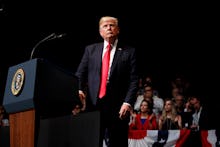 President Donald Trump on Friday announced he will reinstate tough restrictions on Americans traveling to Cuba and American companies looking to do business there, reversing course on former President Barack Obama's efforts to normalize relations with the island nation.
While Trump explained in a Miami speech that he was ending Obama's "terrible and misguided deal" because of the Cuban government's "repression" of its people, the Washington Post noted that Trump's policy change could benefit, well, Trump — specifically, his hotel business.
The historic deal Obama struck with Cuba in 2014 led to the 2016 opening of a Starwood hotel on the island — the "first Cuban hotel managed by a U.S. company in nearly 60 years," according to the Post, and other hotel companies had hoped to follow suit.
In March 2016, Trump himself expressed interest in opening a hotel in Cuba — but has pledged not to make any foreign deals while in office.
By canceling Obama's Cuba deal, the Post reported, Trump could "neutralize a chief rival's ability to gain an early advantage."
The policy shift "could be interpreted as the president is going to hold things up for the competition until the Trump Organization is ready to go down there," Julia Sweig, a Cuba scholar and former adviser to Starwood, told the Post.
The policy change once again raised questions about whether or not Trump has done enough to separate his business interests from his public office. His still-young term has been dogged by criticisms about his many conflicts of interest — and accusations that he is profiting off the presidency.
The White House told the Post that the shift wasn't meant to "disrupt existing transactions that have [already] occurred," and a Trump Hotels spokesperson emphasized that it is "not doing any deals internationally."
But Trump has, in the past, apparently done business in Cuba — in violation of the embargo the U.S. had in place against the country.
In 2016, Newsweek reported that a company run by Trump had — in the late 1990s — secretly conducted business in Fidel Castro's Cuba by funneling cash for the trip to the country into an American consulting firm, which helped Trump Hotels & Casino Resorts executives "make it appear legal by linking it after the fact to a charitable effort."
The secret and illegal Cuba business was done with Trump's knowledge, according to Newsweek.
"Our policy will seek a much better deal for the Cuban people and for the United States of America," Trump said in Miami's Little Havana on Friday. "We do not want U.S. dollars to prop up a military monopoly that exploits and abuses the citizens of Cuba."