Trump-supporting evangelist Franklin Graham is worried about refugees — as long as they're Christian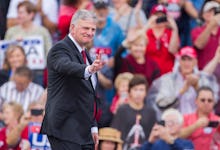 Evangelist Franklin Graham — a staunch supporter of President Donald Trump — expressed concern in a Facebook post Friday about Christians refugees from Iraq being "rounded up" for deportation by Immigration and Customs Enforcement.
"I understand a policy of deporting people who are here illegally and have broken the law," Graham wrote. "I don't know all of the details, but I would encourage our president to give great consideration to the threat to lives of Christians in countries like Iraq."
Graham, son of evangelist Billy Graham, read at Trump's inauguration ceremony in January. He has not only defended the president's blocked travel ban that targets seven predominantly Muslim countries but also said "people coming into the U.S. from all countries" should be subject to extreme vetting.
"We have to be sure that the philosophies of those entering our country are compatible with our Constitution," he wrote in a January Facebook post. "If a person does not agree with our principles of freedom, democracy and liberty, which we cherish, they should not be allowed to come. Without question, Sharia law is not compatible."
CNN reported this week that over 100 Chaldean Christians living in Michigan and Ohio were arrested by ICE for possible deportation to Iraq, where they face "genocide," Rep. Anna Eshoo (D-Calif.) — a Chaldean Catholic — said in a statement to the Catholic News Agency.
Graham wrote Friday that he finds those reports "disturbing" and wants Trump to "investigate these cases thoroughly."
That Graham apparently isn't similarly disturbed by the plight of non-Christians targeted by Trump's crackdown on immigrants and refugees might not be surprising, though.
The evangelical leader has a history of expressing openly Islamophobic sentiments, and in 2015 called, he called a ban on all Muslim immigration to the U.S.
"During World War II, we didn't allow Japanese to immigrate to America, nor did we allow Germans," Graham wrote on Facebook. "Why are we allowing Muslims now?"