Shaunkeyia Stephens, mother of slain Texas teen Jordan Edwards, joins lawsuit against city, ex-cop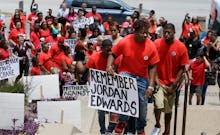 Shaunkeyia Stephens, the mother of slain 15-year-old black teen Jordan Edwards, filed to join a civil suit against the city of Balch Springs, Texas and its police department's ex-officer Roy Oliver, the Dallas Morning News reported.
Stephens asked to join the lawsuit being brought by Edwards' father and stepmother, Odell and Charmaine Edwards, which claims Oliver opened fire on a car full of teens leaving a house party and was then aided by city authorities in a cover-up. Balch Springs Police Chief Jonathan Haber claimed Oliver opened fire with a rifle after the car backed toward officers "in an aggressive manner," though later retracted the claim, according to the Root.
Oliver has since been charged with murder, and the Department of Justice has opened an investigation into the incident.
Police shootings in the U.S. are wildly disproportionate compared to other developed, high-income countries, and the full extent of the problem is poorly understood due to a lack of vetted data. Black Americans are more likely to die at the hands of police than their white counterparts, with one recent study concluding black people are 2.5 times as likely to be shot and killed by law enforcement than whites.
A protest in Dallas over Edwards' death attracted a few hundred individuals, judging from footage posted by Dallas Weekly.
Stephens is also suing Odell and Charmaine Edwards, claiming damages from them on the basis of exclusion from funeral services. She also alleges she was cut out of crowd-sourced donation campaigns to pay for expenses related to Edwards' death after Charmaine Edwards publicly identified herself as the slain teenager's mother in a news report.