Portugal forest fire leaves at least 62 dead, country in national mourning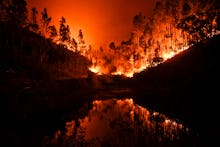 A catastrophic forest fire currently raging in central Portugal has killed at least 62 people, the BBC reported.
The fire in Portugal's Pedrógão Grande area has also injured dozens so far, including several firefighters, and numbers of casualties and injuries are expected to rise. Those killed in the fire were primarily in vehicles trying to escape the area, along with 11 who died in a nearby village.
Prime Minister Antonio Costa said it was "the greatest tragedy we have seen in recent years in terms of forest fires," according to the BBC.
Portugal has declared three days of mourning in response to the tragedy, the New York Times reported.
The Pedrógão Grande fire is one of more than 60 fires that broke out overnight throughout the country, the BBC reported, and according to the New York Times, an additional 11 areas were under surveillance for an "extreme fire risk." It is currently unclear if there were casualties in any of the other wildfires, the Times noted.
Though the Times reports 900 firefighters were working to combat the Pedrógão Grande fire as of noon on Sunday, the fire is still "no closer to being contained," according to Portuguese media outlets cited by the BBC.
Over 1,600 firefighters are fighting wildfires throughout Portugal, and the country is also getting help from two Spanish planes and the European Union, which is sending reinforcements through the E.U.'s civil protection mechanism.
The cause of the rapidly spreading wildfires is currently unknown, although officials cited by the Times suggest recent dry thunderstorms, in which there's lightning but no rainfall. The country is also currently experiencing a heat wave, with temperatures exceeding 104 degrees Fahrenheit.
Wildfires in Portugal are not rare, with an August 2016 fire on the island of Madeira killing three. Sunday's fire in Pedrógão Grande, however, has shocked local officials with its deadly scale.
"This is a region that has had fires because of its forests, but we cannot remember a tragedy of these proportions," Pedrógão Grande Mayor Valdemar Alves said, according to the Portugal News. "I am completely stunned by the number of deaths."