What's Next for Bill Cosby: Comedian still faces 10 pending civil suits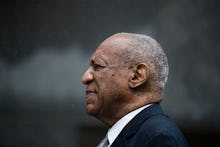 Andrea Constand's court case against Bill Cosby ended in a mistrial Saturday, with jurors unable to come to a unanimous conclusion on any of the three counts of aggravated indecent assault filed against the comedian.
The hung jury did not reach a verdict as to whether the 79-year-old drugged and molested Constand back in 2004, but that doesn't mean his legal woes are over. Prosecutors quickly promised to retry Cosby, and Constand was just one of at least 60 women to publicly accuse him of sexual assault or harassment.
Criminal charges aside, Cosby also faces several civil suits — 10 of them, to be exact.
As the Associated Press reported, seven women are suing Cosby for defamation in Massachusetts, where he maintains a home: Tamara Green; Linda Traitz; Louisa Moritz; Joan Tarshis; Angela Leslie; Barbara Bowman and Therese Serignese, the latter two of whom attended the criminal trial. Each alleges that Cosby once sexually assaulted her, and that, in denying the charges, he has stigmatized them and smeared them as liars.
"There's no reason that any of the victims of this situation should have to live with a scarlet letter in their lives," Bowman reportedly said in a conference call in 2015, when the suit was filed. "I am not a liar. I am a truth-teller."
Meanwhile, in California, Cosby faces three pending suits for defamation and sexual battery, according to the AP. Supermodel Janice Dickinson maintains that while the two had dinner in Lake Tahoe in 1982, the comedian gave her a glass of wine and a pill to alleviate her menstrual cramps. As Dickinson told Entertainment Tonight, she awoke the next morning "with my pajamas off," "semen in between my legs" and a memory of Cosby raping her. Dickinson is now suing Cosby for defamation.
The comedian faces sexual battery allegations from two California women: Judy Huth and former model Chloe Goins. Huth alleged Cosby fed her and a friend alcohol before bringing her to the Playboy Mansion in 1974, when she was 15. With full knowledge of her age, Cosby reportedly molested Huth. He has already been deposed in the case, but that deposition remains sealed.
Goins also alleged that Cosby sexually assaulted her at the Playboy Mansion, in 2008, after drugging her drink. According to the AP, her case will go to trial in June 2018.
As Reuters reported, civil suits offer an easier path to victory than criminal cases do, as criminal cases require prosecutors to prove a defendant's guilt beyond a reasonable doubt, whereas civil suits require only a preponderance — or greater weight — of evidence to fall in the claimant's favor. But defamation suits are still tricky to win, requiring plaintiffs to demonstrate both that Cosby assaulted them and that he spread damaging misinformation about them in denying those allegations. Whatever their outcome, jail time isn't on the table — civil suits beget financial settlements.
That does not mean that Cosby's criminal case is definitively out of the woods, however. According to the Washington Post, a date for his new criminal trial will be set sometime in the next four or so months. Cosby and Constand will likely return to court within a year.