Trump decries "witch hunt," claims 50% approval rating in early morning tweetstorm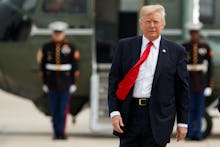 President Donald Trump started off his Father's Day with a tweet decrying the perceived "witch hunt" against him with the ongoing Russia investigation.
In an early morning series of tweets from his first trip to Camp David, Trump touted the success of his "MAKE AMERICA GREAT AGAIN agenda" despite the "Witch Hunt" against him, pointing to "high business enthusiasm," "36 new legislative bills signed" and other actions during his presidency.
Trump has frequently referred to the Russia investigation led by special prosecutor Robert Mueller a "witch hunt" — a term that was also used by President Richard Nixon during the Watergate scandal.
Republican senators have been hesitant to support the president's condemnation of the investigation. In an appearance on MSNBC's Morning Joe on Thursday, Sen. John Thune (R-S.D.) said, "It's not a witch hunt, no. You know, I think that [Mueller]'s got a job to do. I think we all understand that. And I think it's in everybody's best interest if we let him do his job, and we do ours."
Sen. Marco Rubio (R-Fla.) similarly echoed the benefits of an investigation in an appearance on CNN's State of the Union on Sunday.
"The best thing that could happen for the President and the country is a full and credible investigation," Rubio said. "If we want to put all of this behind us, let's find out what happened, let's put it out there and let's not undermine the credibility of this investigation."
In his Sunday morning Twitter rant, Trump also highlighted a recent Rasmussen poll that puts his approval rating at 50%.
The Rasmussen poll is an outlier in the presidential approval polls. According to FiveThirtyEight, the president's average approval rating is currently 38.7%, with a 55.4% disapproval rating.
Trump's assertion that his Rasmussen number is higher than Obama's approval rating, however, isn't quite correct. According to Rasmussen, Obama received a 56% approval rating at the corresponding point in his presidency, June 16, 2009.