Sheriff David Clarke reportedly won't accept position at Dept. of Homeland Security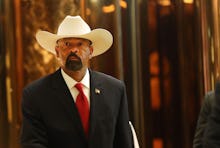 Sheriff David Clarke will not join President Donald Trump's administration as an assistant secretary at the Department of Homeland Security as previously expected, the Washington Post reported.
The Milwaukee County Sheriff reportedly rescinded his acceptance of the position, which he was slated to begin in June. According to the Post, Clarke's appointment was subject to delays, which contributed to him backing out of the position.
"Late Friday, Milwaukee County Sheriff David Clarke Jr. formally notified Secretary of Homeland Security John F. Kelly that he had rescinded his acceptance of the agency's offer to join DHS as an assistant secretary," Craig Peterson, an adviser to Clarke, confirmed in a statement to the Post.
"Sheriff Clarke is 100% committed to the success of President Trump and believes his skills could be better utilized to promote the president's agenda in a more aggressive role."
According to a letter from the DHS's human resources department, which was shared on Twitter by Post reporter Abby D. Phillips, Clarke had been "tentatively selected" for the DHS position in May, pending approval from the Office of Personnel Management.
Clarke, a longtime Trump supporter who spoke at the 2016 Republican National Convention, is a controversial figure who described the Black Lives Matter movement as "the enemy" in an op-ed post and has been critical of government institutions.
In a tweet on Saturday, Clarke said it was "time to saddle up" in the war against the left, writing, "I didn't help get [Trump] elected to back down now."
Clarke has also been criticized for his track record as Milwaukee County Sheriff. In 2016, four inmates died while in custody at the Milwaukee County Jail within six months, the Milwaukee Journal Sentinel reported. One inmate passed away in April 2016 of dehydration after Clarke's staffers shut off water to his room for a week as a punishment.
In an op-ed for Mic following the news of Clarke's possible Homeland Security role, Wisconsin Rep. Gwen Moore wrote she could think of "few men more uniquely unqualified to liaise with local law enforcement" than Clarke.
"Rewarding Clarke's fatal and persistent malpractice with a job in his administration speaks volumes about Trump's character and sheds even more light on the flagrant insincerity of the self-proclaimed 'law-and-order candidate'," Moore wrote.
12:56 p.m. Eastern: This story has been updated.