Donald Trump lawyer Jay Sekulow continues to insist he's not under investigation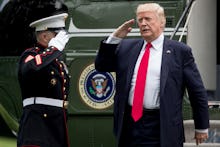 President Donald Trump's legal team would like to be very clear that Trump is not under investigation — regardless of what high-ranking law enforcement officials or the president himself may have said.
"Let me be clear here," attorney Jay Sekulow said on NBC's Meet the Press. "The president is not and has not been under investigation for obstruction."
Referring to an instantly infamous tweet the president sent days ago in which he said he was "being investigated," Sekulow added, "The tweet from the president was in response to the five anonymous sources purportedly leaking information to the Washington Post."
Every indication is that Trump is indeed being investigated over allegations he fired FBI Director James Comey to disrupt an investigation into Russian interference in the 2016 presidential elections. The Washington Post story in question alleged Robert Mueller, the Department of Justice special counsel appointed to investigate the issue after Comey's termination, has since expanded the inquiry to determine whether Trump broke the law as part of a cover-up.
But Sekulow seemed determined to hammer home that the report wasn't accurate, one of the president's points of personal fixation that, increasingly, seems like fiction.
"He's not afraid of the investigation — there is no investigation," Sekulow added. "There is not an investigation of the president of the United States, period."
"He said that if, in light of all of this, the removal of James Comey would lengthen the amount of time that this investigation would take — he thought it was in the best interest of the American people," he concluded. "He was fully aware that if in fact he took this action, he would see a lengthening or could see a lengthening of the process."