North Korea accuses US authorities of mugging diplomats at NYC airport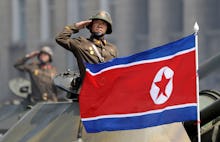 The North Korean government accused U.S. authorities of having "literally mugged" their delegation on Sunday after a diplomatic package was confiscated at John F. Kennedy Airport in New York City.
The alleged seizure, which took place on Friday as diplomats were returning from a United Nations conference on disability rights, was deemed "an illegal and heinous act of provocation" by a spokesman from the Ministry of Foreign Affairs in North Korea's official KCNA news agency.
During the so-called "planned and organized provocation," more than 20 officials, including police and officials claiming to be from the U.S. Department of Homeland Security, reportedly "made a violent assault like gangsters to take away the diplomatic package from the diplomats," as described by the spokesman.
"This mugging act of the U.S. serves as a graphic account telling the world how reckless and despicable the U.S. hostile policy towards the DPRK has become," the spokesman said. "The U.S. should reflect on its reckless act and be fully aware of the grave consequences to follow."
According to KCNA, the North Korean diplomats held a valid diplomatic courier certificate at the time of the incident.
Neither the State Department nor White House have yet commented on North Korea's allegations, Reuters noted.
The North Korean spokesman pointed to Friday's incident to describe the U.S. as "a felonious and lawless gangster state," suggesting the U.N. should reconsider New York City as the home of its General Assembly meetings.
"The international community needs to seriously reconsider whether or not New York, where such an outrageous mugging is rampant, is fit to serve as the venue for international meetings," the spokesman said in KCNA.
News of the alleged incident comes just a few days after U.S. citizen Otto Warmbier was freed from North Korea, where he had been held as a prisoner since March 2016. The 22-year-old returned in a coma and was found to have suffered "severe neurological injury" during his time in North Korea.