Mali resort "under attack" by gunmen, with multiple deaths reported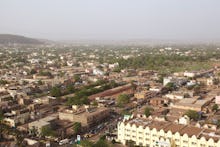 A tourist resort in Mali popular with Westerners came under attack on Sunday, the BBC reported.
Nearby residents reported hearing gunfire at the Le Campement Kangaba resort in Dougourakoro, which is to the east of Mali's capital, Bamako. Security officials later confirmed gunmen attacked the facility, but were fought off by government forces.
According to the BBC, Malian security minister Salif Traore told AFP "It is a jihadist attack. Malian special forces intervened and hostages have been released. Unfortunately for the moment there are two dead, including a Franco-Gabonese."
At least two others were injured. Reuters reported security officials say they liberated at least 32 hostages during their response.
Reuters noted the resort is popular with Western expatriates on weekend breaks.
"Security forces are in place. Campement Kangaba is blocked off and an operation is under way," Security Ministry spokesman Baba Cisse told Reuters. "The situation is under control."
The BBC reported both Malian troops and soldiers from France's Bakhane counter-terrorist force are currently on the scene.
The attack comes one and a half years after the attack on Mali's Radisson Blu hotel in November 2015, which killed at least 20 people. The country has been in a state of emergency since the Radisson Blu attack, which was recently extended for an additional six months in April, the BBC reported.
Al-Qaeda's North African arm, Al-Qaeda in the Islamic Maghreb (AQIM), claimed responsibility for the Radisson Blu attack, and a government official cited by Agence France-Presse reported that "presumed jihadists" are likely behind Sunday's attack.
Mali is several years into a fight against an insurgency of jihadists, the BBC notes, and Reuters notes security in the country has gradually worsened since 2013.
June 18, 2017, 5:30 p.m. Eastern: This article has been updated.