Emmanuel Macron smashes opposition in French parliamentary elections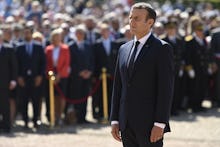 French President Emmanuel Macron's centrist party, Republic on the Move!, swept parliamentary elections on Sunday and is expected to win over 40% of the vote, the Associated Press reported.
With around 75% of votes counted, the AP wrote, Macron's movement had won around 42%, followed by the right-wing Republicans at 22%. Marine Le Pen, the leader of the far-right National Front party, won her first parliamentary seat. But she suffered hefty losses elsewhere, with the party expected to pick up just six or seven seats in total.
According to the AP, the French Socialist party is projected to win just 6% of the vote and is now in total disarray, with leader Jean-Christophe Cambadelis resigning his position.
"Emmanuel Macron's triumph is uncontestable, the defeat of the left is unavoidable, and the defeat of the Socialist party is irrevocable," Cambadelis said, saying the party needed new leadership and ideas.
Weeks ago, Macron was projected to win an even larger margin of seats. But his projected victory of around 355 seats out of 557 total still puts him in more or less total control of French politics and gives him a windfall opportunity to enact his sweeping, reformist agenda — even though his strong showing in parliamentary elections may mask real problems, like a high voter abstention rate.
"It's a stunning success," the Brookings Institution's Philippe Le Corre told Vox on Friday. "It's incredible, really. This party was set up in April 2016. Having been able to recruit hundreds of people from the civil society to run for parliament in a few weeks really is just stunning."
"Less than a year ago, this guy was not even in government," added the European Council on Foreign Relation's Jeremy Shapiro. "He blew the doors off the entire French establishment and singlehandedly destroyed the French political structure. He wiped out the Socialist Party. He mortally wounded the Republicans. And he is in a position to become an incredibly powerful French president."