'Shadow of the Tomb Raider' Leak: Logos and key art may have been accidentally released by PR studio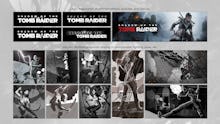 It seems more and more likely that Shadow of the Tomb Raider will be the name of the next entry in the series. Previously, a poor cell phone snap of what appeared to be internal Square Enix documents on an in-development game by that name was all we had to go on. However, the latest alleged leak looks a lot more believable.
Shadow of the Tomb Raider Leak: Marketing company accidentally releases promo material
According to a post on NeoGAF, marketing studio Takeoff Creative had a section of key art from Shadow of the Tomb Raider on their website, as well as various renditions of possible logos. Takeoff Creative has worked with Square Enix before, so it wouldn't be surprising if they had a part in the marketing and promotion of an upcoming Tomb Raider game.
Takeoff Creative describes their company as the following:
We are based out of Los Angeles, California with design studios in Montreal, London and Lyon. As a supplier, we cater exclusively to the game marketing industry.
This is significant because the cell phone leaker claimed to have taken the photo in Montreal, which may point to the Takeoff Creative Montreal design studio being the branch assigned to work on Shadow of the Tomb Raider.
However, it's wise to take this leak with a grain of salt. Takeoff Creative's website, Twitter, and Facebook are all offline as of this writing, so we can't independently verify the veracity of the leak. We'll bring more news on Shadow of the Tomb Raider as it becomes available.
More gaming news and updates
Check out the latest from Mic, like this essay about the sinister, subtle evils lurking in rural America that Far Cry 5 shouldn't ignore. Also, be sure to read our review of Tekken 7, an article about D.Va's influence on one Overwatch player's ideas about femininity and an analysis of gaming's racist habit of darkening villains' skin tones.