Finsbury Park Mosque: Latest update on London van incident police are treating as a terrorist attack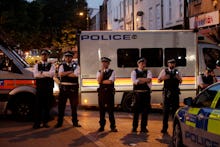 An incident involving a white van that plowed into pedestrians near a mosque in north London early Monday morning is now being investigated as an act of terrorism, London Metropolitan Police Commissioner Cressida Dick said in a statement.
One man has died and at least 10 people have been injured in connection to the attack, the BBC reported. One suspect — a 48-year-old man whose identity has not yet been released — has been arrested on suspicion of attempted murder.
"London is a city of many faiths and many nationalities. An attack on one community is an attack on all of us," Dick said. "Terrorists will not succeed in their attempts to divide us and make us live in fear."
According to Deputy Assistant Commissioner Neil Basu, the Senior National Coordinator for Counter Terrorism, the man who died had already been receiving first aid at the scene when the attack occurred, and it is currently "too early to state if his death was as a result of the attack."
Basu also confirmed that all of the victims of the attack, which occurred on Seven Sisters Road in the Finsbury Park area of London, are members of the Muslim community.
London Mayor Sadiq Khan released a statement early Monday calling the incident "a horrific terrorist attack."
"We don't yet know the full details, but this was clearly a deliberate attack on innocent Londoners, many of whom were finishing prayers during the holy month of Ramadan," he said in the statement.
British Prime Minister Theresa May confirmed that the attack was being investigated as terrorism, and said that she planned to convene an emergency response meeting on Monday.
"All my thoughts are with the victims, their families and the emergency services on the scene," she said, according to the BBC.
U.K. Labour Party leader Jeremy Corbyn told the BBC that "an attack on a mosque, an attack on a synagogue, an attack on a church is actually an attack on all of us."
"We have to protect each other's faith, each other's way of life, and that's what makes us a strong society and community," he said. "The only answer to this has to be strong communities together, so these dreadful incidents don't happen."
The United Kingdom has been marked by deadly terror attacks in 2017, including a March attack outside London's houses of Parliament that left five people dead, and around 40 people wounded; a deadly May bombing in Manchester Arena that killed 22 concertgoers; and a June terror attack on London Bridge that left seven dead. The Islamic State group, also known as ISIS, claimed responsibility for all three attacks.
As of 8 a.m. Monday morning, United States President Donald Trump had yet to respond publicly to the Finsbury Park attack. It's not the first time the president has been silent on Muslim-targeted attacks — in February, he failed to acknowledge a terrorist attack at a Quebec City mosque that left six people dead.