Grenfell Tower fire update: 79 now feared dead or missing in London blaze, police say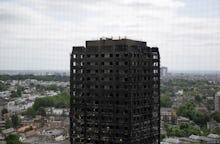 London police now say that the number of people feared dead or missing as a result of the Grenfell Tower apartment fire is now 79, the Associated Press reported.
In a statement given outside Scotland Yard Monday, Police Commander Stuart Cundy said that the search and recovery operation in the tower is ongoing, and that the number is subject to climb even higher as the investigation progresses. The previous number released by police was 58.
"It's hard to describe the devastation the fire has caused," Cundy said, adding that the ordeal has been extremely devastating for the families and loved ones of the victims.
British officials said Sunday that they now believe the deadly blaze might have been made worse as a result of exterior cladding used in a renovation of the building, which had been banned under U.K. building codes.
Grenfell Tower, while located in London's posh North Kensington neighborhood, housed mostly working-class residents and families. Former tenants claim they had raised concerns about the building's infrastructure before the fire, only to have their points dismissed by management.